How would you like to really make delicious and yummy rice meals? The kind of rice that would make the big restaurants to blush and hide in shame. This is a Book that would show you all you need to know about making delicious rice, stew, chicken, fish and salads.
Do you eat lots of rice in your house?
Do you want to learn the secret to making delicious and tasty fried rice?
Do you want to know the "extra something" that five star restaurants add to their rice to make them very tasty and delicious
The Ultimate Rice Cookbook (popularly called Rice book) is a 40 paged magazine that shows you all you need to know about making delicious rice meals.
There are over 14 difference rice recipes, grilled chicken recipe, grilled fish recipe, salad recipe etc.

We Have Recipes For

The Ultimate Rice Cookbook offers you step by step guide for making all of the meals above, plus a lot more. Every single details, you can replicate them exactly the way they appear above. No more guess work, no more trial and error! Now is the time to shock the big restaurant and eateries.
I decided to explore different rice recipes because we all are becoming tired of the every day rice and tomato stew.
The Ultimate Rice Cookbook contains everything I have learned about rice, stew, chicken, fish and salads in the last twenty years… plus a little extra. 100% of our custormers are very happy with this book.
You are about to learn cooking secrets that most caterers guard with their life. You will be able to make simple birthday rice, delicious and colorful rice for the family. And the good thing is that you can learn all of this in a week or less.
Inside The Rice Book
So How Do I Get This Book After Payment
I really can't imagine a better bargain, I just want you to be able to make delicious meals 😀 You can pay instantly with your card or make a direct transfer/deposit into the accounts provided below. You have absolutely nothing to lose but so much to gain for purchasing the rice book.
I observed that most people genuinely would love to spice up their cooking but lacked the time and money to attend a catering school.
This product offers the same value as a catering school, you will also learn tips and tricks about food presentation and decoration.
But Why Rice Recipes?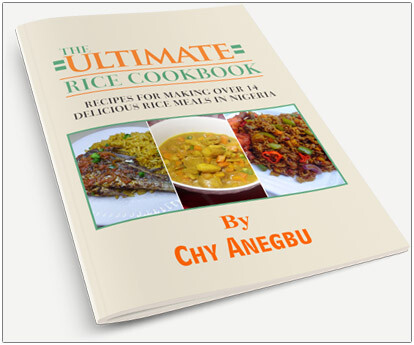 I decided to emphasis more on rice because it is the most popular food eaten in Nigeria, an average Nigerian eats rice five times a week, two times as much as other Nigerian foods!
So What Is In It For You?
You will learn to make more than 14 delicious rice recipes
You will learn food tricks and secrets that most cooks won't reveal to you
You will end up feeling really good about yourself
Follow the button below to order this powerful Book and begin the journey to making delicious and irresistible rice meals.
Surprise your family!
Surprise yourself!
The journey to making delicious rice begins here!
Order Today, Don't Delay.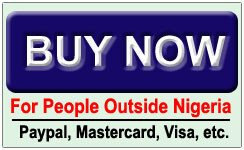 What others are saying
Tolu
Chy, thank you for this wonderful cookbook, you have re-engineered cooking in Nigeria. It used to be just jollof rice, tomato stew and sometimes fried rice. This cookbook changed everything. I tried your buttered coconut rice and it was so delicious. Thanks for this blog and the emails too.

If you purchase this book now you will be taking advantage of our 40% discount offer and this book will be delivered to your chosen address in 3-7 working days for FREE. We deliver to all addresses in Nigeria and over 220 other countries of the world.
Our fast Delivery System
Take advantage of our fast and all-round-Nigeria delivery system, Whether you want the book delivered to your home, office, church, mosque or friend's address, it would only take 3-7 working days for people in Nigeria and 3-4 weeks for Europe and America. 😀

30 Days Money Back Guarantee
The Ultimate Rice Cookbook is backed up with a 30 days money back guarantee, If you purchased this book and for any reason and decides that it did not meet your need or falls short of your expectation, you can return it and you will get your full refund, straight and simple.

There are step by step guides for every one of the recipes above
No more guess work… time to cook with confidence
It is time to make delicious Nigerian rice meals
This Book is not just about the images you see above, it is so much more! You will learn about food decoration and presentation. There are also recipes for salads, ofada sauce and curry-coconut sauce. Get your folks addicted to your foods. Don't wait, take your cooking to a whole new level today!