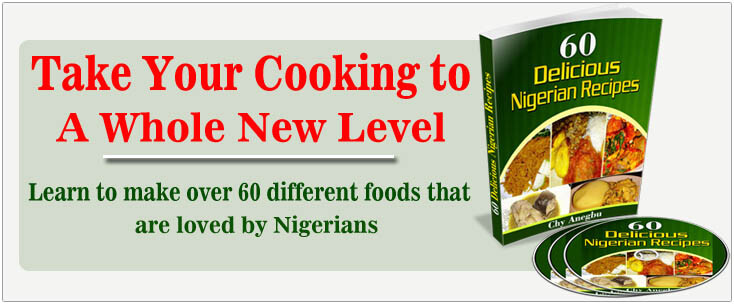 How would you like to make Delicious Nigerian foods with ease of mind and complete confidence? I mean the kind of delicious… mouth-watering foods you buy from posh restaurants.
How would you like to gain my twenty plus years of cooking experience in just one month or less?
I have been making Nigerian foods for close to twenty years, I know how to make almost all the foods eaten in Nigeria, both simple recipes and continental dishes. I know to make foods eaten by different Nigerian ethnic groups as well as different popular cuisines.
Are you dating or about to marry a Nigerian person?
Are you a wife/husband that is looking to improve your cooking skill
Do you want to make delicious Naija foods?
Then this wonderful product is for you! You will learn everything you need to know about Nigerian foods, step by step instruction, every single tip and trick I have learned about foods in the last twenty years.
Whether you are new to making Nigerian foods or you just want to improve your skills, you will find this product very resourceful
We have over fifty different Nigerian recipes, both for starters and professional.
Honestly, this is not just another cookbook; It is everything in one place. We have both written and video guides for making over 60 delicious Nigerian foods, an extra bonus ebook that will teach you all you need to know about Nigerian food ingredients. It is an all-in-one eGuide for making delicious Nigerian foods
It also contains a menu that helps you with day to day meal planning.
I believe that I have so much to share with you because I have been making delicious foods for the last twenty years. This eGuide is a combination of my simple tips and tricks for making delicious foods with over sixty different recipes. You will learn how to make different kinds of soups in Nigeria, different rice recipes, yam recipes, beans recipes, pepper soup recipes, easy Nigerian recipes, continental dishes, Nigerian drinks, Chicken Recipes, Pastries and small chops.
I also just added a standard menu that would make your day to day meal planning a breeze! You don't need to worry about what to prepare for the next day, let the menu worry about that.
You will learn to make simple family cakes, breakfast recipes, dessert recipes, local foods etc. You will become a professional cook in one month or less by following this eGuide
Hear What Others Are Saying!
I had in mind to offer you the best product in the world for making Nigerian foods and that is just what you get with this All-in-one eGuide.
This eBook is Responsive Across all Devices
The 60 Delicious Nigerian Recipes (eBook) displays beautifully accross all devices, once you pay for it you can download it to your device and it stays with you forever. If you lose it accidentally, you can download it again. You can download it to your laptop, desktop, tablet or mobile phones.
The eBook is easy to follow with images and a well written instruction
The videos are optimized to play on any computer or smart phone
Our download page gives you the opportunity to either view or download our beautiful recipe videos on you PC or any mobile device. Everything is as simple as clicking a button.
This eGuide is very easy to use, it doesn't matter whether you know anything about a computer or not. If you can check your email it means you can equally use this product, it is very simple to download and easy to view with either a laptop, desktop, tablets and most mobile phones.
Note that once you purchase and download, you will not need internet access to view/access the product, you can view and use anytime, anywhere. It remains in your device for life but in case you lose it, you just click the download button again… simple and easy.
We have this eGuide in both ebook and video formats because most people prefer them that way, these formats doesn't get spoilt or lost like physical books… they can also last forever. Even when you change your computer or device all you need to do is to re-download; it is that simple.
The sixty Most Delicious Nigerian Recipes (eBook) is made in The Nigerian Kitchen, it is made and presented with full confidence.
Author's Note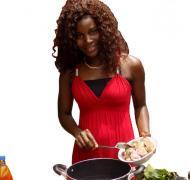 CHY ANEGBU
I am Chy Anegbu, a professional chef and food blogger. I have been making Nigerian foods for almost twenty years, I have the bestselling Nigerian cookbook at createspace.com and Amazon.com 😀 I believe that this book is of high value and would definitely assist you in making over 60 delicious Nigerian foods.
Over the past few years I have been able to build a community of like-minded people, men/women that love Nigerian foods. We reach out to thousand of people daily through newsletters, Facebook, twitter, pinterest, Instagram and our two blogs.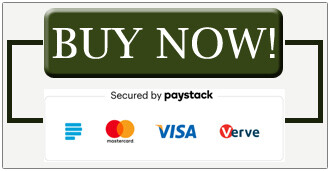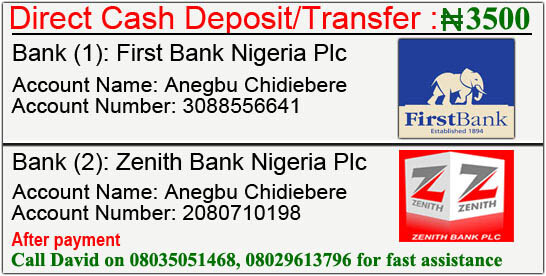 You Also Get A Bonus
Purchase this amazing product today and get an instant bonus, "The top fifty Nigerian food ingredients" is the eBook that will help you to understand Nigerian food ingredients.
This eBook explains the name and the uses of the top fifty Nigerian ingredients, there are images for each of the ingredients as well as a detailed description.
You may have also wondered about the possibility of substituting one ingredients with another, there are several ingredients you may probably never find in your location. You will learn about their close substitutes and even how to order them in your location. Isn't that amazing?
This Is All You Get

Here is the complete product for making Nigerian foods, it contains over sixty delicious Nigerian recipes that you can choose from, you will learn about my top secret ingredients and you will know why we might use the same ingredient and why I would end up with a better food.
There is an art that is involved with making delicious foods. It goes far beyond just the recipes, it is something else. This eGuide shows you the extra tiny something that make the whole difference.
You will also get a bonus, "the top fifty Nigerian food ingredients", an eBook that will teach you everything you will need to know about Nigerian food ingredients.
60 Days Money Back Guarantee
This eGuide is backed up with a 60 days money back guarantee, if you purchased this product and for any reason decides that it did not meet your need or falls short of your expectation just send me a mail and you will get your full refund, straight and simple.
This eGuide will show you the little 'extra something' that will make your food to stand out.