Peppersoup is one of the most delicious Nigerian foods. I want to talk about the assorted meat recipe and a couple of other recipes that I know how to prepare. You will learn about the ingredients/spices used for pepper soup also.
We have different recipes in Nigeria that are made with different kind of meat and fishes. The most popular is goat meat recipe followed by the assorted cow/goat meat recipe (which includes shaki [cow tripe], pkomo, fresh meat, intestine, liver and kidney), also we have the cow tail peppersoup, catfish pepper soup which is fondly called 'point and kill'.
Here is how I Make Nigerian peppersoup with assorted cow meat. I have used the phrase 'Assorted cow meat' on several parts of this site. If you don't understand what I mean, here is an explanation. – Assorted cow meat in Nigerian is simply different parts of a cow, it includes the cow flesh (beef) cow tripe, liver, kidney, intestine etc.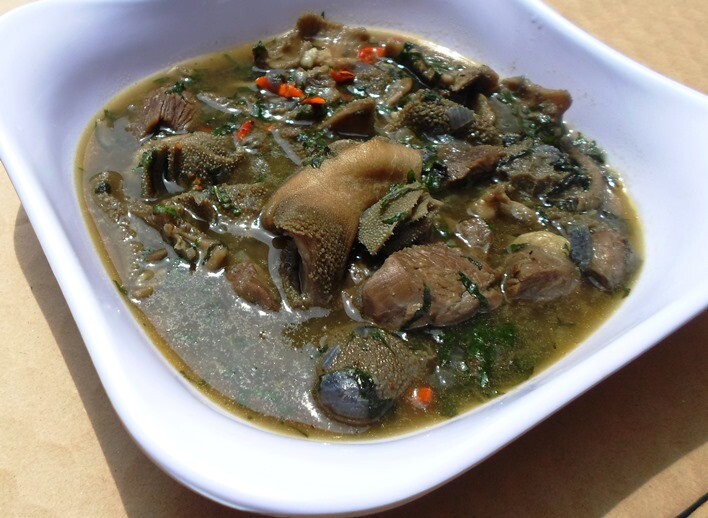 I used all of that to prepare the plate of peppersoup above as you will also see in the video at the bottom of this page.
Pepper soup is a very popular evening meal in Nigeria, visit this page for all other Nigerian Dessert Recipes.
Here is all the ingredients I used as well as the images of "ehu" 'assorted meat" and Uziza seeds" for easy identification, click to view.
1 kg of assorted meat (goat or cow)
3 Seeds of Ehu
Scent leaves (a handful)
Ground Uziza seeds – 1 teaspoon
Sliced Utazi Leaves (optional)(to taste)
2 cubes of maggi or knorr
4 Spoons of ground crayfish (optional)
Half cup of onions
Salt and pepper to taste
Sachet of Kitchen Glory (beef seasoning)
Preparation:
NOTE: Uziza seeds are very pepperish, be sure to taste before adding more (ordinary) pepper.
The seed of ehu is one of the most relevant peppersoup ingredients and it requires a special kind of preparation. Just go ahead and break away the outer shell, then go ahead and blend/pound together with the uziza seeds and crayfish
Some people like to heat the ehu before using them; It is a common practice in the rural areas. They just throw them into red hot charcoal for few seconds then remove when they are turning dark, break away the outer membrane and grind. I usually achieve the same end by droping them in a frying iron spoon and hovering over my gas burner, but you can avoid all of that.
Also grind the uziza seeds, slice the onions and utazi leaves and set aside in a plate.
What you find below are the images of assorted meat (right), the second plate on the left contains a combination of ground Uziza seeds, ehu and crayfish on one side, Onions and scent leaves too.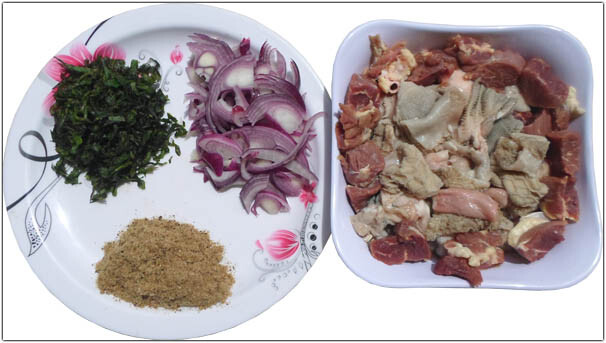 This same ingredient (ehu) is used for making several other Nigerian foods, like the African salad and Nkwobi Ndi Igbo.
If you are preparing pepper soup with assorted goat meat you may want to wash the meat thoroughly with boiled water and start cooking with just onions and some simple ingredient. (A cube of maggi, sachet of kitchen glory and a pinch of salt).
You can start cooking the harder meat first and then add softer and easier to cook ones later; I chose to begin with the cow flesh, intestine and cow tripe (towel); while I add the liver and kidney several minutes later.
Cook on medium heat for 20-40 minutes, then add the ground ehu, uziza, crayfish and remaining onions. Allow to boil for about 5-10min, taste for salt and pepper.
Add the sliced utazi and scent leaves simultaneously, salt and (ordinary) pepper to taste. Allow to boil for another five to ten minutes and you just made a delicious Goat meat peppersoup, One of Nigeria's most popular evening meals.
You can serve alone with a chilled bottle of your favorite drink. Although, I enjoy it better with boiled white rice or yam.
Here is the video for making goat meat peppersoup, you will learn so much by seeing the video if you are browsing this site from a pc or a mobile device that supports YouTube videos. You will also learn about all the ingredients used in making this delicious meal.
Why not try this out in your kitchen and tell me all about it? Use the comment form below.
Subscribe Below to Receive My Free Weekly Recipes.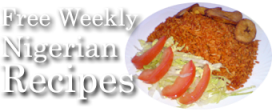 Compare Other Nigerian Desserts & Peppersoup
Try my Delicious Spaghetti Recipe