Tomato sauce can be prepared with vegetable or made just plain red with tomatoes.

We have been on different yam recipes for the past few days. Honestly I never thought this recipe would actually make my top five but it did.
I began thinking about different tomato sauce recipes that I have made in the past and it turned out that the meal below tastes even more delicious than the Mashed Chicken Porridge Yam Recipe that I made a few days back
What you find below is vegetable sauce for yam, like I said; it beats the taste of several other numerous recipes for yam. I made this in a special way and I am going to tell you about it right here.

I know lots of ways to make tomato sauce, I have another recipe entirely for fried yam. One of the very popular Breakfast we eat in my Lagos home is a combination of fried yam, fried ripe plantain, potatoes, red tomato sauce. Sometimes, however, I would throw in some delicious fried eggs.
It serves both as breakfast and dinner in Nigeria. For that, I make a simple red tomato sauce which can also go with white cooked yam. Below is a plate containing the combination… as listed above.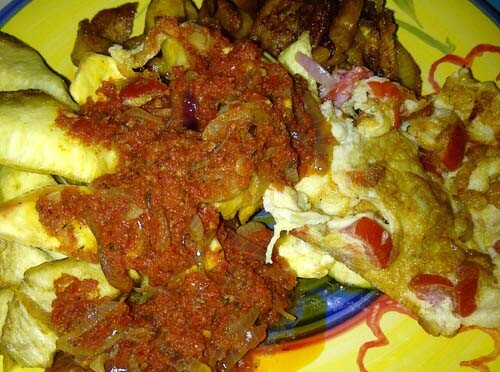 That is just another delicious tomato sauce recipe, the only difference with this and the vegetable sauce I would be talking about below is just vegetables, ya! Fluted pumpkin. For me, I prefer vegetable sauce simply because of the vegetables in it. The name 'vegetable' is synonymous with health, don't you agree?
So we are going to be talking about how to make tomato sauce for yam, by that I mean the vegetable sauce which you can see above.
The preparation time for this recipe is between fifteen and twenty five minutes while the ingredients you find below are what is needed to prepare what would serve about five to seven people, please increase the ingredients if you are cooking for a larger audience.
Ingredients For Yam Sauce With Vegetables
4 cups of sliced tomatoes
Fresh Peppers
Maggi or knorr cubes (2)
5 cups of sliced ugu (fluted pumpkin)
3 tablespoons of Ground crayfish
Salt to taste
Vegetable oil (10cl)
Start by preparing your ingredients. Wash and slice the leaves, tomatoes, peppers and onions.
The image below is a combination of sliced fresh tomato/pepperonions in a plate and sliced fluted pumpkin in another plate. I use some of this while making yam sauce. It would be nice to deep fry the fish after removing the center bone.

How To Make Sauce With Vegetables For Yam
Set your cooking pot on the burner, allow to dry then pour in about 15cl of vegetable oil, this would be enough for frying the fish and also for the main cooking. Allow the oil to heat for at least one minute before frying the fish for about three to five minutes, turn frequently to avoid burning, pick out the fish and set aside.
Transfer the sliced tomatoes/peppers/onions into the pot containing the oil and fry also for about five to ten minutes while stirring occasionally to avoid burning. Fry the tomatoes/peppers until it looses its sour taste due to frying.


We are almost done with making vegetable-tomato sauce for yam.
Once you are done with frying the tomatoes, add a cubes of knorr or maggi. How does it taste?
Add salt to taste, ground crayfish, taste. Stir and add the vegetables after a minute or two.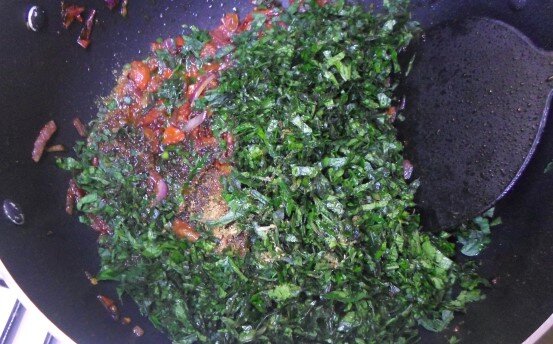 Allow to simmer for another three to 3-4 minutes.

Serve with cooked white yam. We just made a pot of tomato/vegetable sauce which is used for eating yam as well as rice, beans and few other Nigerian foods.
Compare Tomato Sauce & other Yam Recipes
My List of Cuisines From Nigeria