Chapman or shapman is one of the popular Nigerian drinks; it is served in most major Nigerian restaurants and bars It is also the most popular drink for cocktail parties in Nigeria

I got a request from a lady friend sometimes last week to write this recipe, she wanted to prepare the Chapman drink for her kids.
So here we go! 😀
It became my favorite soft drink since I learned how to prepare it. You can decide to make it soft or hard, what I mean is that you can add a particular ingredient to make chapman drink alcoholic for adults or avoid the ingredient so that both adults and children can enjoy it.
I can't say much about the origin of chapman but I hear that it all started with a man at the Ikoyi club, a man named Shapman. Over time, the name changed. 😀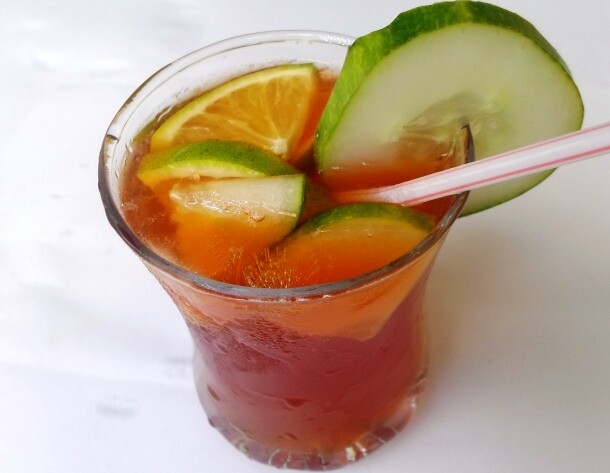 Angostura aromatic Bitter is the ingredients to look out for, at first I thought I wouldn't find it in Nigeria but I did, I learned it is marketed and distributed by just one company in Nigeria and you can buy it in most major superstores. I got mine from everyday emporium at a very expensive price, a small bottle was sold at four thousand five hundred naira only. Ask for Angostura aromatic bitters used for cocktails.
I later learned that Amazon offers it at a way cheaper price.

Alomo bitters can also be used in place of the Angostura bitters, alomo bitters are very popular in Nigeria and sold at every corner of the street in Lagos. However, you can avoid the aromatic bitter or alomo bitter completely if you want to make chapman for the kids instead, you should squeeze in a lime… half lime would be OK. This would slightly affect the true taste of the chapman that you buy from bars and restaurants but it is alright.
Here are the complete ingredients for making chapman, the popular Nigerian drink. These ingredients would serve four persons.
Ingredients for chapman Nigerian Drink
Serving: 4 persons.
A bottle of Fanta (35cl)
A bottle of Sprite (35cl)
Angostura aromatic bitter or alomo bitters 3 spoons
Grenadine syrup (1 cup)
5-10 spoons of orange juice (optional)
1 lemon or lime
cucumber
Ice cubes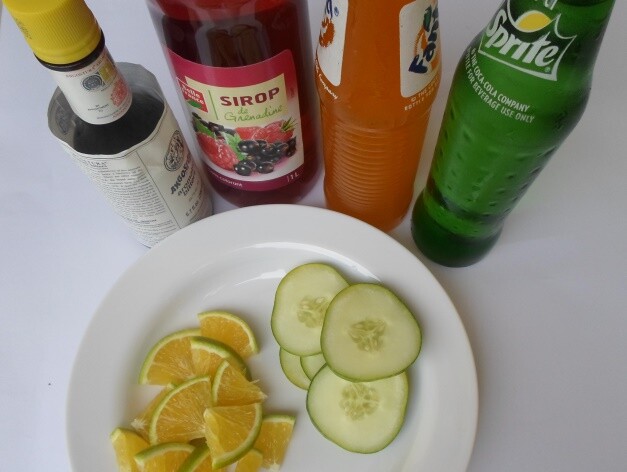 The orange and cucumber are used for garnishing; you can use lime, oranges, cucumber, grapes, a combination of two or even just lemon is okay.
How to prepare shapman (chapman)
It is better to prepare chapman in a jug the way David did in the video below and then distribute in glass cups thereafter.
I hope you know that ice cubes are the same thing as ice blocks; the difference is just the shapes. Most refrigerators are supplied with ice cube trays, so be sure to have them ready before you start the preparation.
It is also advisable to chill the Fanta and sprite before using them. You should remember that chapman must be served cold or you will be arrested by Chapman himself 😀 So the best approach would be to chill the major ingredients before the preparation.
So here we go with the preparation.
Get a simple wine glass or a giant mug, pour a cup full of grenadine syrup.
Pour in the sprite and Fanta into the same jug. Add two spoons of the Angostura aromatic bitter, alomo bitter is used alternatively in case you can't find angostura bitter in your location but that would alter the true taste of chapman.
The angostura/alomo bitter kinda dilutes the sweetness from other ingredients a little; you have to be mindful of the quantity of chapman that you consume if you are not using these bitters.
This is just to avoid the intake of sugar in excess. We have discussed Healthy Nigerian foods in detail this year.
Add the fresh orange juice, and shake or stir with a spoon.
At this point you are almost done with making the Chapman Nigerian drink, go ahead and distribute in glass cups and then throw in the garnishing fruits.
Cut the cucumber/oranges into triangular shapes and throw them into the mixture. Cucumber, lemon or even banana can also be used for garnishing; even a combination of two or three fruits-slice is acceptable.
Add the ice cubes and serve chilled with a straw and your favorite snack. So the Nigerian Chapman or shapman drink is made of a bottle of Fanta, sprite, Angostura aromatic bitters, grenadine syrup, fruit juice, ice cubes, and other garnishing Ingredients.
That is how to make Chapman drink, the most popular drink for cocktail parties in Nigeria.
Here is the video for chapman, as made by David, watch and enjoy. Don't forget to drop me a comment below.
Learn about other Nigerian drinks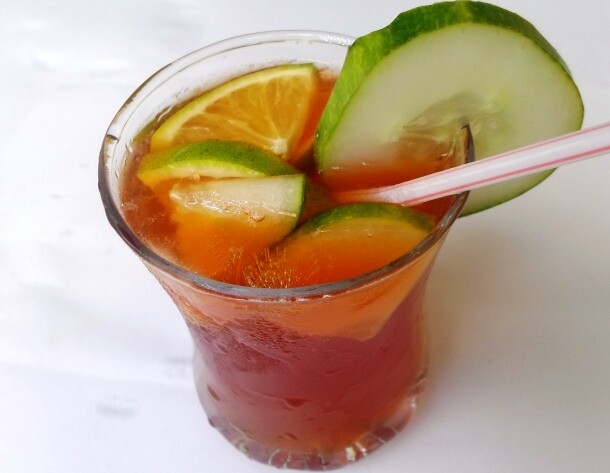 Chapman Recipe
Chapman drink is popular in Nigerian parties, everyone I know love this drink and loves to share it with their friends and family. This is a simple recipe that shows you how to replicate the same drink in your home
Ingredients
3

tbsp

Angostura Aromatic Bitters

1

Bottle

Sprite

35cl

1

Bottle

Fanta

35cl

1

Cup

Geraldine Syrup

50

mls

Orange Juice

3

tbsp

Lemon Juice

Ice Cubes

Slice of oranges and cucumbers

For Toppings
Instructions
Chill your Fanta and spirit for about 60 minutes

Pour a glass full of Geraldine syrup into a jug. Pour in the sprite and Fanta also.

Add your 2 spoons of Angostura bitter (when you are making chapman drink for adults)

add the fresh orange and lemon juice. Shake and serve.

Drop the toppings after you pour into glass cups to get your chapman drink looking like what I have below.
Video
Notes
I hope you enjoy it.
From Chy
All the best.
Subscribe Below to Receive My Free Weekly Recipes.