Nigerian foods are simple and easy to make. If you can read your emails and chat on Facebook, then you can follow the recipes on this site to learn how to make Nigerian dishes, it is that simple 😉
There are hundreds of foods from Nigeria, the majority of them are very tasty and delicious when they are well made. Many of the foods in Nigeria are easy to prepare, you just need to follow my articles and videos. Feel free to check out more interesting pages, learn about Nigerian drinks and healthy foods.
Someone once asked about my favorite Nigerian food, it is easy, well… I was confused. I used to love fried rice but then I learned about salad sauce, afang soup, coconut rice, carrot stew, and like another 50 Nigerian foods.
I have a list of Nigerian food's Questions and Answers
At the moment, I just can't tell you my favorite Nigerian food, but if you keep looking, you might notice. However, I wrote an article here about Popular Nigerian Dishes. Welcome once again to my food blog.
Learn more about Nigerian Dinner Ideas
Learn more easy recipes from our Nigerian recipe blog
Subscribe Below to Receive My
Free

Weekly Recipes.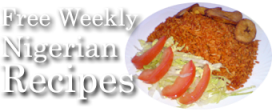 Nigerian Foods Vidoes