Here is my Nigerian favorite porridge beans recipe.
I really like the taste of porridge beans especially when it is made with ripe plantain, I only learned recently to fry the plantain instead of the old way of adding them sliced. Either of the two ways always turn out delicious.
I fell in love with this recipe as a student in the university, as a student you go for easy to make/cheap foods because we want to spend less money on foods and also spend less time in the kitchen.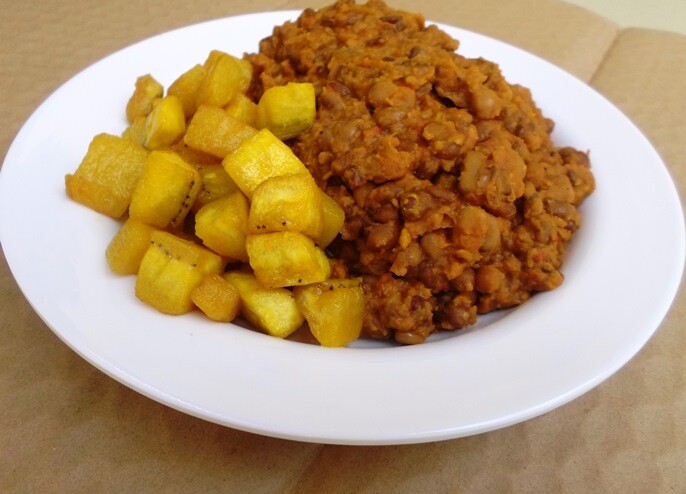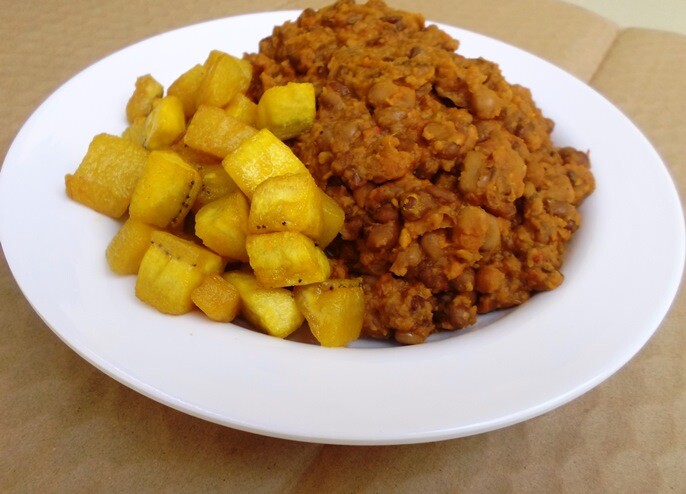 This bean recipe could be made with just about six to eight simple Nigerian food ingredients, sounds simple right? I know there are recipes that takes close to fifteen different ingredients to prepare, recipes like that are only reserved for the kitchen experts.
Over the years I have learned to spice up this recipe into one of the most delicious Nigerian meals.
I learned to add a little bit of fresh red pepper/tomato for decoration. I also use fluted pumpkin occasionally.
Here are the ingredients for making my favorite Nigerian beans porridge recipe, you can increase/decrease the quantity of each one of them depending on the number of persons you are looking to serve and of course their stomach capacity. The ingredients below would serve about five to six persons.
4 cups of beans
1 cup of onions
4 ripe plantains
2-3 cubes of Maggi or Knorr
10ml of palm oil
500ml Ground red tomatoes
Fluted pumpkin (optional)
Ground Red Pepper to taste
Salt to taste
Nigerian beans porridge can turn out different depending on the method you employ. You will get the exact image that I have below if you follow the steps I outline or you can follow the video below if you have a fast connection. I learned that the majority of people learn faster by watching videos instead of reading.
Step 1
The first step Would be for you to pick the beans, this same method was demonstrated in the video below. Pick to separate sand and impurities from the beans, remove every unwanted material from the beans. That is just the essence of picking the beans.
Parboil the picked beans for three to five minutes before following with the rest of the procedures. Just add to boiling water, cook for three to five minutes then wash and set aside in a bowl.
Slice the fresh red tomatoes/pepper and set aside on a plate, also slice the two bulbs of onions.
Step 2
set your cooking pot on the burner, add about two to three cups of water, allow to boil before adding the par boiled beans. cook for twenty to thirty minutes with just onions. I learned that adding onions at the beginning speeds up the cooking process of beans.
Divide the sliced onions, use the first half at this point and the second half would come later. watch the video below to see how this is properly done. Cook the beans for thirty to fifty minutes until it is very soft for consumption. You can check this by pressing with your fingers with a spoon.
Once the beans are soft enough for consumption it would be time to commence with the third stage of making beans porridge, my favorite porridge beans recipe.
Step 3
Add about a cup of water if the water is already dried, add the ground crayfish, maggi cube, sliced tomatoes/peppers; also add the palm oil, salt and pepper to taste.
At this point you can add sliced ripe plantain in case you like them cooked, you can do this or fry the plantains separately. Cover and cook for another ten minutes and you are almost done with the making of my favorite beans recipe.
You can add fluted pumpkin if you like vegetables, it has its nutritional value and also serve decorative purposes.
Cook for another three to five minutes and serve hot. I like it watery, the same way you will find in the video below.
But you can stir it for few seconds until it turns thick.
Below is the video for making my favorite porridge beans recipe, it is easily my favorite dinner recipe and can also be served alongside plantain and other Nigerian foods like jollof rice.
Subscribe Below to Receive My Free Weekly Recipes.