"what is the national dish of Nigeria"?
I get lots of questions about Nigerian dishes daily and I try my best to answer them. Someone asked and lots of people have given appropriate answers below.
What do you think? Do we have a national dish? I thought every food in Nigeria counts.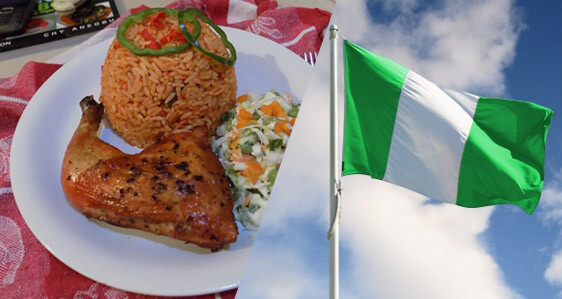 Tell us your thought on this. I love Nigerian dishes and love to talk about them.
Most of the comments below suggest it is jollof rice. I don't think they are wrong. Read them and drop your own comment too.
I think jollof rice is really the national dish of Nigeria since different Nigerian ethnic group makes it in different ways. Everyone loves the rice recipe and almost every Nigerian know just how to put together a pot of jollof rice.
So what is your opinion? Which is the national dish of Nigeria? Drop your answer using the comment form below.
Here is a better photo of Jollof rice, the Nigerian version. We serve with chicken most times.

National Food of Nigeria – Jollof Rice
Jollof rice is considered a national dish of Nigeria because it is easy to prepare and most of the required ingredients can be sourced from any part of the world. Also, varying recipes exist across Nigeria's numerous ethnic groups. Hence the reason we consider it a national dish in Nigeria.
Ingredients
4

cups

of rice

1

kg

beef

1000

ml

of Ground Fresh tomatoes your blender is calibrated

1000ml = 1 liter

50

ml

Ground Fresh peppers

Spices Curry

Thyme, Delice, Nutmeg, Chicken spice

3

Seasoning cubes

2

cups

of sliced onions

300

ml

Vegetable oil

Salt to taste.

2

Cloves

of garlic and

2

Fingers of ginger
Instructions
Start by precooking your meat with the listed spices (a teaspoon each of thyme, curry, and salt; two seasoning cubes and sliced onion) Allow the meat to cook till tender.

Peel of the outer back of the ginger/garlic, pound or grind.

Parboil 4 cups of rice, wash and set aside in a plastic bowl.

Once the meat is tender, separate from the stock and deep-fry.

Fry the ground tomatoes until it is turning day (about 20-25 minutes) stir continuously to avoid burning it.

When the tomato is well fried, add the chicken stock (meat water).

Add the blended ginger/garlic, a teaspoon each of curry and thyme, two teaspoons of salt.

Add 4 cups of water also, taste, add salt to taste.

Add one seasoning cube. Stir and taste, you want it overly spiced. The rice will take some of it away.

Allow to boil before adding the parboiled rice.

Add the remaining half of the tomato that you removed initially.

Then just cook till the rice is soft.

Turn evenly and serve with the fried chicken.

NOTE: If you don't want your jollof rice to start burning before it is well cooked, you need to remove some fried tomatoes before adding the rice. Then add it later.
Notes
The national dish of Nigeria is jollof rice.
Read the comments below.