Puff puff is one of the easiest of all Nigerian snacks, I posted an image of it on my Facebook page and learned that Nigerians have different spelling for it.

The comments that trailed the image on my Facebook page spelled it in different ways and one guy even called it poopoofuu! /only him waka come/. 😀
Thanks to Maryam Kamba for telling us the Hausa name – Panke, We are going to learn how to make puff puff, I suppose it is the easiest of all Nigerian snacks.



I love kpuff kpuff too but not as well as little Onyi, She could eat a lorry load of them and end up smiling and playing around with oily lips. 😀
How To Make Puff Puff Without Yeast
I get this question regularly and truthfully, I don't think there is any way you are ever going to have the same delicious looking-tasting-smelling puff-puff without adding yeast.
Yeast is actually the ingredient that is responsible for that nice smell that is synonymous with this snack. So, at the moment, there is no alternative to yeast, when I find it, I will definitely tell you about it.
Yeast is used in bread, pizza, beer, and several other foods. Nutritionists don't consider it harmful to the human body, on the contrary, they think it has some health benefits.
Here is how to make this delicious snack in Nigeria, It is quite easy to make. It is likely the easiest of all Nigerian snacks, same as chin chin. They could both be made in less than 60 minutes.
Complete Ingredients For Puff Puff:
Serving 5 persons
3 cups All-purpose flour
1/2 teaspoon salt
1/2 teaspoon ground chilli (Pepper)
3 tablespoons sugar
1 seed nutmeg, ground
3 liters of Vegetable(for frying)
2 Teaspoons of active yeast
How to Make Puff Puff With Pepper
Pepper (chilies) is one ingredient I find particularly delicious in puff puff, this recipe included pepper and I am sure you are going to love it.
Preparation
Like most Nigerian foods, there are techniques you need to employ when making this snack, just to be sure you end up with the actual thing. 😀
Something as simple as yeast can mess up your puff puff if you don't use it well, it happens with several other foods, you will learn as you go.
Yeast should be stored in an airtight container, it goes bad when exposed to atmospheric air and thus serves no purpose whatsoever.
How to make Puff puff
Start by washing your hands properly and wipe with a kitchen towel.
Step 1
Add two and a half cups of flour to a bowl, (about 200g), two teaspoons of yeast, add the ground nutmeg, add a pinch of salt to taste, 3 spoons of granulated sugar and start stirring with your hand and make sure the dried ingredients are properly mixed together.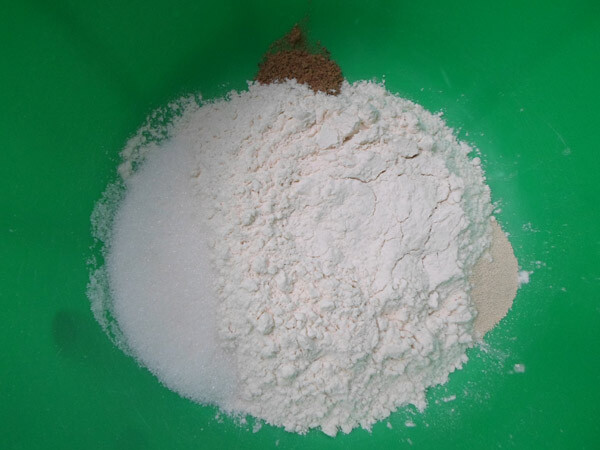 Step 2
Now add 200ml of warm water to mix properly, stir with your hand for few more minutes until they are properly integrated together.
Add enough water so you can actually scoop some in your palm; but not too much water to the point that it would run off through your fingers when scooped.
Remember that the standard measuring cup is 250ml, the equivalent is that peak tin milk cup that most market women use for measuring 50 naira garri.
Step 3
Add the ground chilies (pepper), stir some more.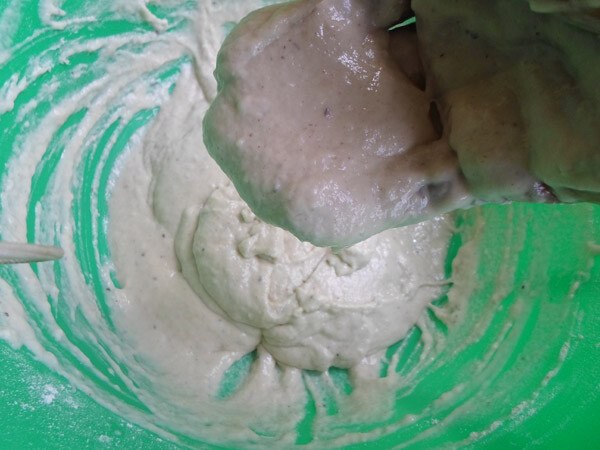 You can taste at this point and add more salt and sugar if there is any need for a little more; then go ahead and stir a little more.
Step 4
Once it is properly mixed together, you will need to tightly cover the mixture in the bowl with either a foil, tray or nylon for about thirty minutes. This gives the yeast the chance to do its assignment.
When you open the covering, it would have risen a little, if it is very foamy, you probably used lots of yeast and your puff puff would have holes in them, but that is not very bad, No holes at all are bad actually.
Step 5
Set a cooking pot on the fire, I don't think frying pan would work, except you have really deep frying pan. Allow the pot to dry before adding about 2-3litres of oil.
make sure the oil is at least 2-3inch deep, it is not right for the puff puff to rest at the bottom of the pot, it would give it a somewhat flat shape, and people would actually think you made pancake 😀
Step 6
Once the oil is heated, scoop some in your palm and squeeze into the oil, allowing it to escape through the circle made by your thumb and index finger. Don't bother about making it so big, what you drop into the oil will triple in size before it comes out of the oil.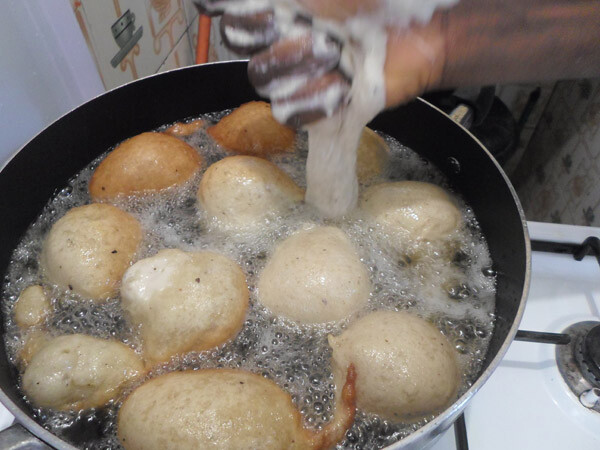 When you get it right, it should be somewhat spherical and sometimes with a horn. It should float if the oil is properly heated; Continue until the oil is covered. Observe and turn once you see that usual color of puff puff.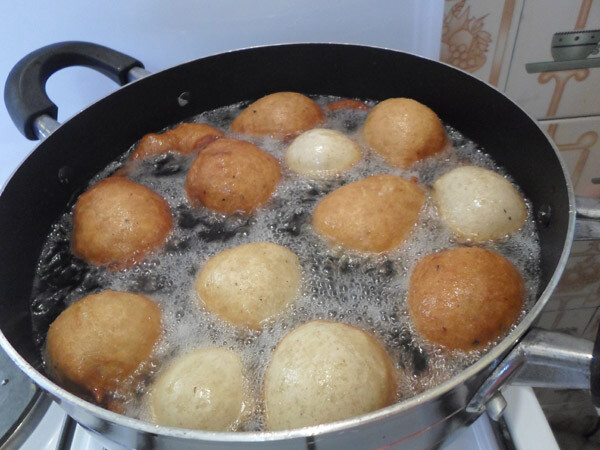 You have to be mindful of the heat also, the oil when heated too much could burn the puff puff before it is properly cooked and when it is not heated at all your puff puff gets soaked in too much oil.
Actually, when you drop the batter into the oil, it may sink first, then rise to the surface.
Repeat until you have fried all the barter. Now that is how to make puff puff.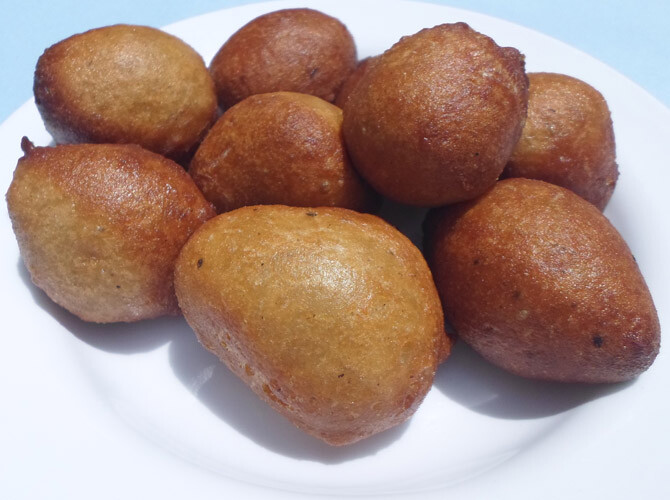 Pull out your phone, take a snap and send it to me, enjoy with your favorite soft drink. Then send some to your neighbors, friends, family, etc.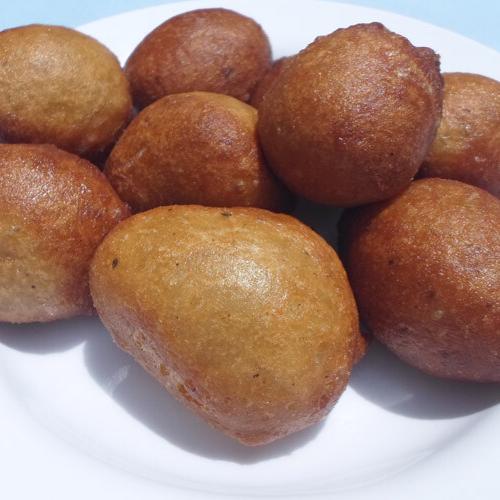 Puff Puff Recipe with Pepper
You can't do without puff puff, I am sure. This recipe shows you how you can make it in just 90 minutes.
Ingredients
2.5

Cups

All-purpose flour

1/2

tsp

Salt

half teaspoon

1/2

tsp

ground chilli

Pepper

3

tsp

Granulated sugar

2

tsp

Ground Seed of nutmeg

3

liters

Vegetable oil

for frying

2

tsp

of active yeast
Instructions
Add all the dried ingredients together in a bowl and mix them properly. (yeast, flour, ground nutmeg, add a pinch of salt, granulated sugar.

add 150ml of warm water to mix properly, stir properly.

Add the ground chilies (pepper), stir some more.

Taste for salt and pepper. You can add a little more water, you just want a fine consistency.

Cover the bowl with nylon when it is properly mixed and allow to rise for 45 minutes in a warm place.

After 45 minutes, stir and fry. Then serve with your favorite soft drink.
Return to Other Nigerian Desserts