This Aloe Vera juice is super nourishing and completely free from additives, artificial color or complex sugar.
It is just a combination of water, honey, lemon, and Aloe Vera.
I make this yummy juice by crushing or blending the entire leaf of the aloe vera plant; It used to be very bitter and nobody loves to drink bitter stuff. With this new recipe, I reduced the bitterness without reducing the many known benefits of the aloe vera plant. 😀
Now, I squeeze out the colorless pulp/gel and blend with a couple of other naturally occurring ingredients and what I have is this sparkling Juice.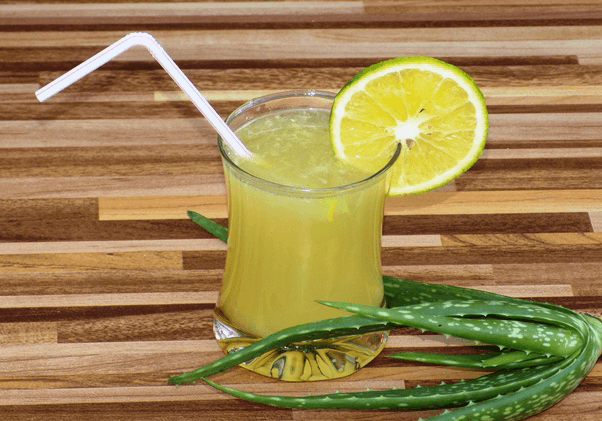 In my quest to make a perfect and delicious juice that is void of unhealthy additives I have learned that aloe vera mixes easily into smoothies and shakes, this I can't say about several other wild herbs. This makes aloe vera juice a practical whole food supplement.
You can't imagine all the things I have done with aloe vera and how much time I put into such experimentation. I have tried adding aloe vera to Chapman, orange juice and even certain store-bought wines; It turned out perfect.
I really don't like the idea of having to consume a glass of juice laced with 7 cubes of sugar. And we started all this because we wanted to consume less or no sugar at all.
Benefits of aloe Vera Juice
1. Acemannan is one of the wonderful elements found in Aloe vera gel. It is a complex carbohydrate that allows nutrients to reach the cells, it nourishes them and relieves them of toxins.
2. We know aloe vera to have certain healing properties and the ability to repair wounds, heal sores and especially burn when the gel is directly applied.
The FDA even approved it in 1959 as an over-the-counter treatment for burns, sunburn especially.
3. When aloe vera is consumed raw, studies show that it helps digestion slow down the growth of H.pyrola bacteria. Bacteria which can lead to stomach ulcer when finding in your digestive tract.
4. Aloe vera is a major ingredient for cosmetic companies since we knew it to cure body diseases such as acne and ringworm. Using raw aloe vera on your face may help smoothen your face.
5. Aloe Vera, when applied directly on the hair help condition the hair and reduces dandruff. It repairs dead skin cells on the scalp because of the presence of proteolytic enzymes.
I wrote an article some days back about Detoxifying With Aloe Vera; I told you I will share my recipe for free. Well, this is how I make my own aloe vera drink.
If you want it really bitter, use lots of aloes vera.
I used Aloe vera, lemon, water and a spoon of honey.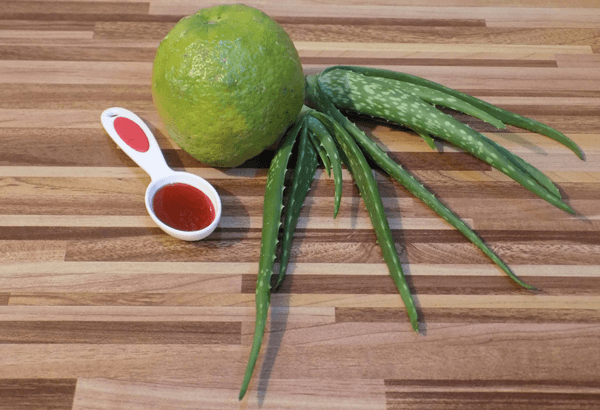 Squeeze out the juice from the aloe vera, add one cup of chilled water, 100ml of lemon juice/orange juice, a tablespoon of honey and you are done. Try different measurement for aloe Vera and honey, you can use more or less aloe vera.
You can practically make a jug of family juice using this technique, just remember, it is best to serve juice after a meal and never before a meal.
I would love to read your comments, please use the form below to add a comment.
Subscribe Below to Receive My Free Weekly Recipes.
[newsletters_subscribe form=2]

Aloe Vera Juice Recipe
Aloe Vera Juice is a perfect detoxifying agent and this is the perfect recipe. Studies carried out on Aloe vera show that it is laced with good number of nutrients and considered good for the human body.
The only problem is that aloe vera is not as sweet as pineapple or even oranges but with the right ingredients, I am sure you are going to love it.
Ingredients
Small Aloe vera gel

100

ml

Lemon Juice

300

ml

Water

2

tbsp

Honey.
Instructions
Use a knife to separate the aloe vera gel from the enclosed leaves

Drop into a blender

Add one cup of chilled water

100 ml of lemon juice/orange juice,

1 tablespoon of honey

Note: You can try different measurement for aloe Vera and honey, you can use more or less aloe vera.

Just remember, it is best to serve juice after a meal and never before a meal.
Video
Aloe Vera Recipe Video
The video above shows you how I make this aloe vera juice. The recipe is easy to follow.