Keke fieye is a very delicious Ijaw recipe, although this is the first time I am eating this, it sure tastes delicious.
I actually thought that I have seen all the foods in Nigeria until I walked in on a pretty lady while she was enjoying this delicious Ijaw food.
What actually got my attention was the giant snail at the center of the plate, I thought it was actually Porridge Plantain but I haven't eaten or made porridge plantain with snails before.
So we got talking, and I figured it would be nice to tell you about this delicious Ijaw food recipes.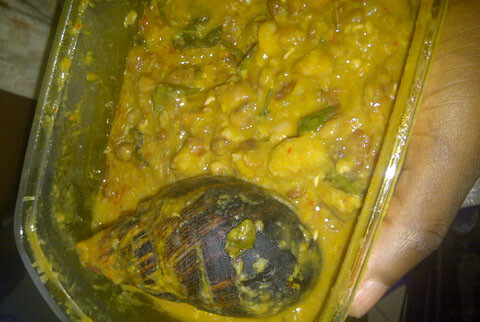 Keke Fieye is actually made with unripe plantain, but you can add a little beans if you don't have enough plantain, although, most people prefer a combination of plantain and beans for this popular ijaw food.
Keke Fieye is Ijaw Food
If you are dating or married to an Ijaw man, you will find this article interesting, you will learn how to make keke fieye and other popular River/Bayelsa State foods.
Over the past few weeks I have been talking about River state foods, I grew up in river state Nigeria and have seen and tasted most of the foods made and eaten in this part of Nigeria. This recipe is popular in both River state and Bayelsa State of Nigeria. The reason is that the Ijaw people of Nigeria are a major parts of both Bayelsa and River state.
This is just one of the many popular ijaw foods, actually it is the first ijaw recipe on this site, a lot more will definitely follow.

The preparation process for keke fieye (Ijaw recipe) is a little similar to preparing porridge plantain, you would think it is porridge plantain without the snails.
Below are the ingredients that is required for making keke fieye.
Ingredients for Keke Fieye
8 – 10 Unripe plantains
Ground Crayfish (about a cup)
Red Pepper (to taste)
2 seasoning cubes
Palm Oil (about 15cl)
Ground Uziza Seeds (Teaspoon)
Dried Fish
Unshelled Snails
Salt
Scent Leaves (a handful)
Beans (a cup or more)
How To Make Keke Fieye (Ijaw Food)
Peel off the green back of the unripe plantain and slice to tiny bits, A kitchen knife is best used for the slicing of unripe plantain. Ground the crayfish and Uziza seed, also wash the dry fish with hot water and get ready to begin with the main cooking.
The Snails
Like I said initially, the snails that are used for making keke fieye are unshelled.
You just soak for about 15 minutes in salt water, and the soaking helps to remove the slimy fluid.
Wash the snail thoroughly before breaking the bottom.
Crack the bottom of the snails, although you don't break deeper so you do not lose the green fluid.
You break the bottom of the snails so the green water would flow into the food while it is cooking. The green water of the snail is a very important part of the food.
How to make Keke fieye
Step 1
Set your cooking pot on the heat, add a cup of water or two, add the washed dry fish, crayfish, red(palm) oil, pepper and a seasoning cube.
Step 2
Allow to boil before adding the sliced unripe plantain.
If you are cooking keke fieye with beans, you would need to start cooking with the beans, you cook until the beans is 80 percent before adding the plantain and then crayfish, dried fish etc.
Cook till the plantain and the beans is almost soft enough for consumption.
When the water is not dried (you can add more water), taste for salt, add more if they are not enough.
Then you can add the snails.
Cover and cook the for ten minutes before adding the sliced scent leaves.
The scent leaves should cook for about five minutes before you serve the food. You can serve hot or cold.
Keke fieye, the ijaw food can also be served with a soft drink of choice.
There are easier foods that any Nigerian would love, even people from River and bayelsa still enjoy lots of other delicious Nigerian recipes.

Here is my list of Other Foods Like Keke Fieye