Hausa Groundnut soup or miyan Geda is just another delicious soup from Nigeria. This article shows you how to make miyan geda and tuwo shinkafa.
For a long time, I have wanted to learn about Hausa foods. Thanks to members of the Nigerian Kitchen. This recipe was sent by Mrs. Grace Goyit.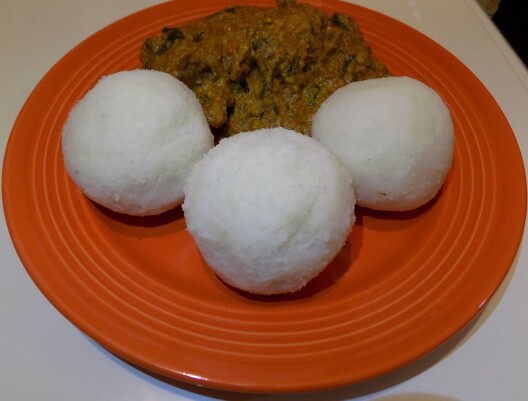 Tuwon shinkafa is swallow that is made from rice.
If you have eaten semo before, then you have an idea of what tuwo shinkafa would look like… it is that good.
This Hausa Groundnut soup is really easy to prepare. Below are all of the ingredients that you would need.
These would serve 6 persons. This soup takes about 90 minutes to prepare.
Ingredients for Groundnut Soup
[arrow_list]
Ground dried groundnut (2 cups)
Hibiscus (white) optional
Beef (1kg)
Dried fish – 200g
Ground crayfish (3 Table spoons)
Half cup of sliced onions.
Palm oil (150ml)
Salt to taste.
2 teaspoon of daddawa
Vegetable (spinach preferably)(aleho)
Ground Tatashe Pepper (Half cup)
Sliced spring Onions (Half cup)
[/arrow_list]
White Hibiscus looks like the zobo leaves that we use for zobo drink but this one is white. Those Hausa mallams will sell it.
Below is the image of white hibiscus.
Alternatively, you could use just a handful of spinach leaves.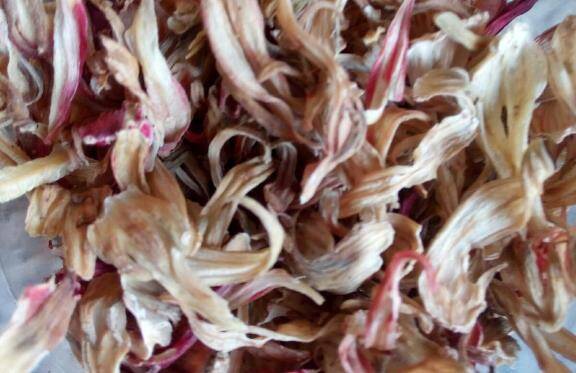 How to Prepare Groundnut Soup
Grind your dry groundnut (some people slightly fry the groundnut in a pot before grinding). I don't.
Ground the crayfish and set aside.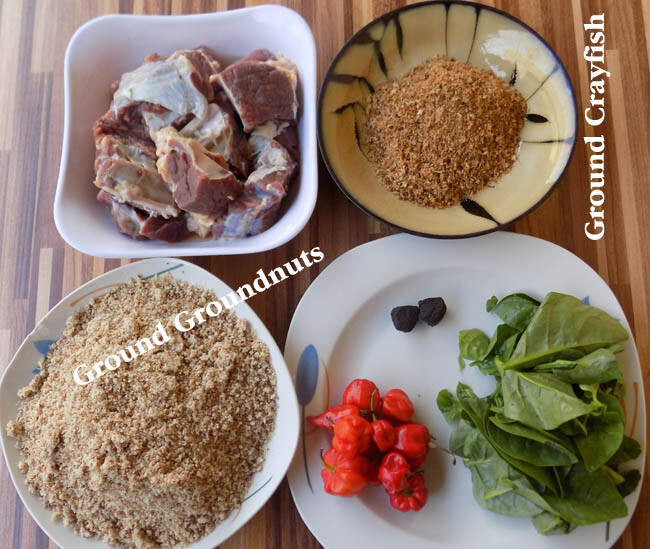 Boil your meat with seasoning (2 cubes of maggi, a teaspoon each of garlic, ginger, and salt) plus sliced onions.


Also boil your hibiscus separately with just water until soft (could be slightly sour, so add a little potash, the potash would help remove the soured taste). Then wash it thoroughly when it is done.
Wash your dried fish with warm water and salt to remove sand and dirt, wash and cut your spring onions and green separately, blend your tatashe, pepper and onions together and set aside.
When your meat is almost ready, add the tatashe blend, palm oil, crayfish, allow to boil for few minutes, add daddawa (Hausa Maggi) and taste for salt. You can add more salt if you like.
Then add your neatly washed dried fish, add 3 cups of water and allow to boil.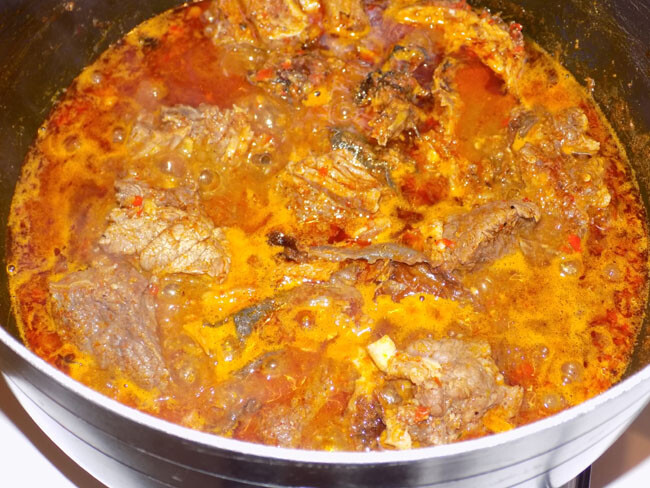 Add your ground groundnut and allow to cook for 4 minutes.
The Vegetables should follow – your properly washed and cooked hibiscus should be added to the soup if you have it.
Allow to simmer for 4 minutes then add your spring onions, allow for a minute, the spinach should follow, allow for a minute, it's ready to be served.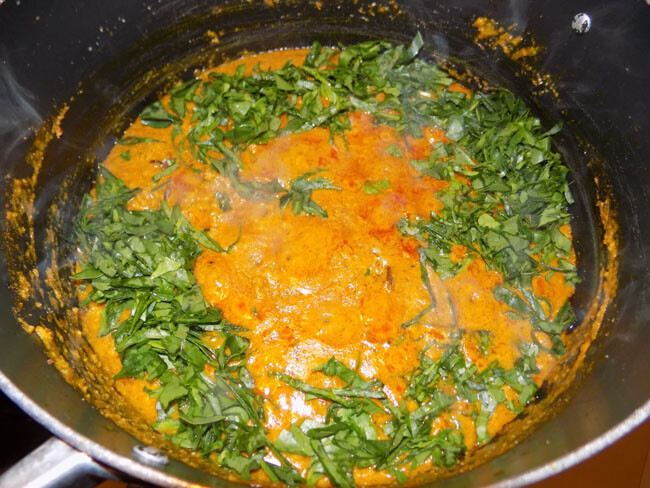 You just made a delicious pot of miyan geda (Hausa groundnut soup)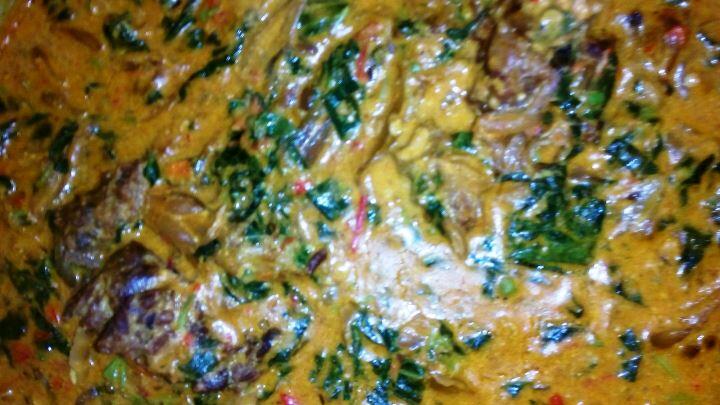 Miyan geda or Groundnut soup can be served with any one of Nigeria's swallow (Eba, fufu, semo etc.) but in this case, it was served with tuwo shinkafa.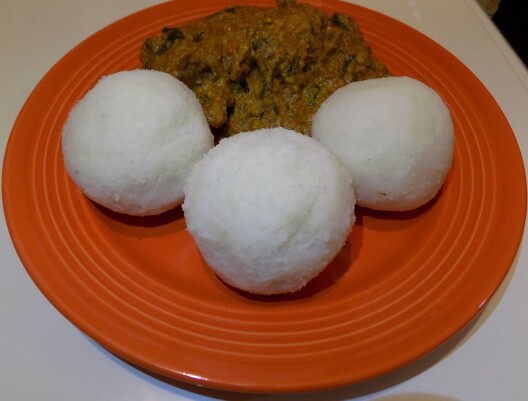 How to Make Tuwo Shinkafa
Tuwo Shinkafa is made out of rice, however, there is a unique kind of rice that does a perfect job. You will find it if you ask around. It looks just like this.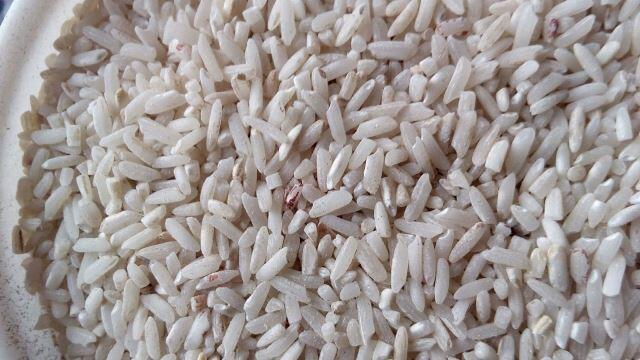 Making tuwo shinkafa is the easy part. Three cups of rice would do.
Wash your rice thoroughly and put it on fire with enough water to cover the top. Keep checking from time to time and adding water little by little, cos the rice has to be very soft.
After which you turn it like your semo and serve. If you make a mistake and its slightly watery add semo to make it strong.
Here is How to Make Dan Wake
How To Make Hausa Moringa Soup
How to Make Miyan Geda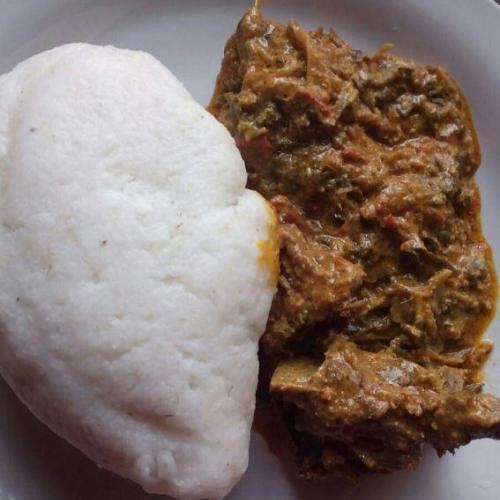 Peanuts (Groundnut) Soup | Hausa Foods
Groundnut (peanut) soup is a delicious soup from Northern Nigeria. Different recipes exist within different Nigerian ethnic group. This recipe is particularly from the Hausa tribe but also loved by other Nigerian ethnic groups.
Ingredients
2

cups

of groundnuts

peanuts

Hibiscus

white optional

1

kg

Beef

200

g

Dried fish

3

Tablespoons

ground crayfish

½

cup

of sliced onions.

Palm oil

150ml

Salt to taste.

2

teaspoons

daddawa

Handful vegetable

spinach preferably(aleho)

½

Ground tatashe pepper

½

Sliced spring onions
Instructions
Grind the 2 cups of groundnuts (peanuts) You want fresh peanuts.

Ground the crayfish and set aside.

Soup Ingredients

Season your beef and cook it. Use 2 seasoning cubes, a teaspoon each of garlic, ginger, salt and sliced onions.

Boil your hibiscus leaves seperately (if you will be using it) use just a pinch of potash and water. Boil until it becomes soft. Then wash and set aside.

Wash the dried fish and set aside.

Once your beef is well cooked, Add ground tatashe, palm oil, ground crayfish, allow to boil for some minutes. Add Daddawa (Hausa local seasoning) and taste for salt.

Add 2-3 cups of water, the washed dried fish.

Allow the soup to boil for 3 minutes before adding the ground groundnuts (peanuts)

Add the properly cooked and washed hibiscus leaves and allow to simmer for 3 minutes.

Spring onions and the spinach should follow, allow for a minute, stir.

Taste for salt and you are ready to serve.

Your groundnut soup or miyan geda is ready to serve.