Egusi soup is unarguably the most popular Nigerian soup. In my few years as a food blogger and Nigerian food lover, I have learned that different recipes exist across different Nigerian ethnic groups
The Yorubas make efo elegusi while the Igbos make ofe egusi, all with similar ingredients but with slightly different approaches.
This is a comprehensive recipe for the best kind – egusi soup with lumps… the kind you only get to eat when you visit a 5-star restaurant or hotel 😀
Like I stated on the introductory page; Egusi (melon) soup is the most popular of all Nigerian soup. On this page, I also included a video recipe for this soup and then a list of some other Nigerian soups that are in the same category as this yummy soup.
What you find below is a delicious plate of egusi soup and fufu, a popular Nigeria combination.

Complete Ingredients For Egusi Soup
Serving: 12
2KG Assorted meat
4 cups of egusi (melon)
Roasted fish (about two medium sizes)
1 cup of ground crayfish
2 cups of washed bitter leaves
3 seasoning cubes
300ml of palm oil
About 2 liters of water
Salt to taste
Pepper to taste (scotch bonnet).
One medium-sized Stock fish head (okporoko)
20g Dawadawa or opkei (local ingredients)
The above-listed ingredients will make a large pot of egusi soup, see the bottom of this page. This soup will serve a family of 4 three times. You can always refrigerate leftovers.
This recipe shows you how to prepare Egusi soup with lumps, the kind you only find in posh restaurants and eateries.
Preparation
Grind the four cups of egusi with a dry blender or hand grinding machine and set aside in a bowl. Add about a cup of water to it and stir to make a very thick paste as you can see below.

Be sure that the bitter leaves (onugbu) are properly washed, it is advisable to remove over 95 percent of the bitter taste, this process is known to most Nigerians, it involves washing and squeezing the bitter leaves for several minutes in a very big bowl.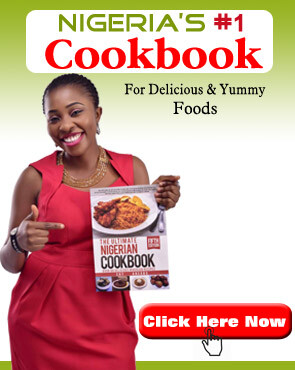 If you bought the already-washed bitter leaves from the market already, it is advisable to boil alone for about ten minutes, this would further remove the bitter taste and serve other purposes.
Parboil the meat with all the necessary ingredients, it is advisable to parboil meat with some ingredient before adding to the main food, this improves the taste of the meat.
Parboil for about ten minutes, then add water and cook till the meat is tender and the stock (water) is about to dry. Use two seasoning cubes, a teaspoon of salt and a half cup of sliced onions.
Pour hot water over the stockfish in a bowl and wash thoroughly to remove sand, then set aside. Also remove center bone from the roasted fishes, wash and set aside too.

How to make Egusi Soup with Bitterleaf
Set your cooking pot on the fire and add 300ml of palm oil (red oil), allow to heat for a minute but don't allow to bleach. Add the egusi paste and keep stirring for the next eight to ten minutes to form seed-like crumbs. See the image below.

Then transfer the already cooked meat into the pot, stir.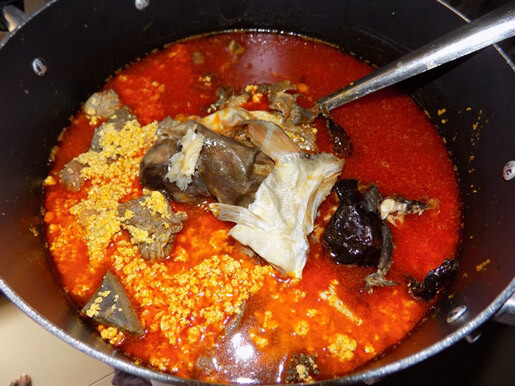 Add the washed dry fish, stockfish, ground crayfish, a seasoning cube, ground scotch bonnet pepper and 6 cups of water. then cover half way and allow to boil for the next ten minutes.
Stir occasionally to avoid burning.
Add the already washed bitter leaves, one spoon of ground dawadawa (local ingredients), taste for salt and pepper.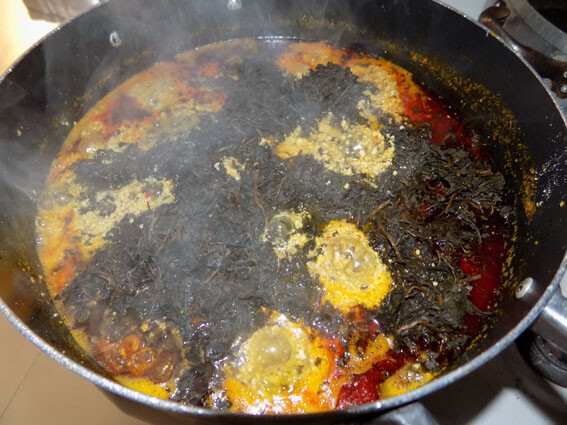 Allow to boils for ten minutes, stir every 3 minutes and you just made a delicious pot of egusi soup.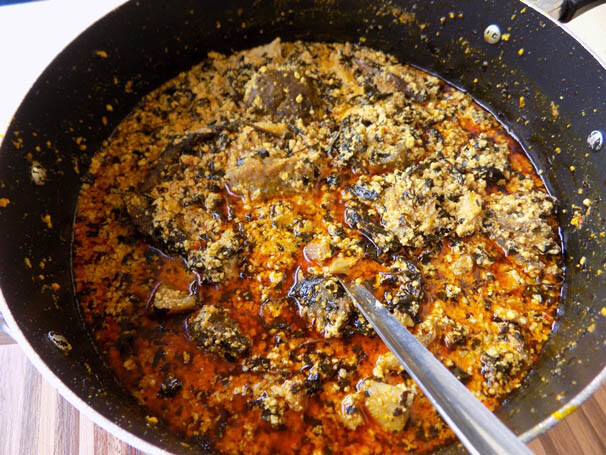 This is how you make the best Egusi soup with lumps, the kind you only find in posh restaurants and eateries. 😀
You can serve with eba or fufu, in fact, any one of the Nigerian swallows will make a great combination
What is Nigerian swallow? Learn all about it and all other 'swallow recipes'
I also enjoy eating this soup and pounded yam together.
Egusi Soup and Pounded yam
The most popular way to serve this soup is to pair with pounded yam. If you are desiring a delicious plate of egusi soups and pounded yam, you will have to prepare them separately.
Follow the recipe on this page to make the soup.
Pounded yam is just boiled yam that underwent the process pounding 😀
Recipes exist that have taken away the strenuous process of pounding. I learned you could make pounded yam with blenders or just buy yam flour and do it the easy way.
Here is the recipe for Pounded Yam
When you are done, you can serve both together.
Note: This soup can also be made with fluted pumpkin, the same process should be followed the only different is that bitter leaves should be replaced with fluted pumpkin leaves
Video For Efo Elegusi (Yoruba)
Here is a visual demonstration of the method outlined above, enjoy!
A combination of Ofe Egusi and Pounded Yam would be perfect for lunch

Subscribe Below to Receive My Free Weekly Recipes.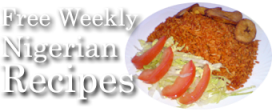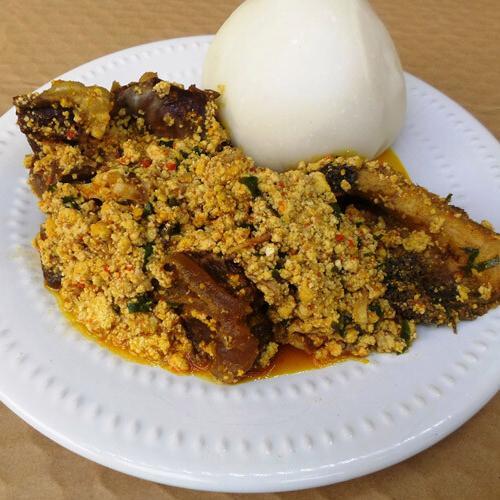 Print Recipe
Egusi Soup Recipe
Egusi soup is the most popular soup in Nigeria, this recipe shows you how to make the most delicious kind... the kind of egusi soup with lumps.
Ingredients
2

KG

Assorted meat

4

cups

of egusi

melon

Roasted Mackrel

about two medium sizes

Half

cup

of ground crayfish

2

cups

of washed bitter leaves

3

seasoning cubes

300

ml

of palm oil

Salt to taste

Pepper to taste

scotch bonnet.

One medium-sized Stock fish head

okporoko

20

g

Dawadawa or opkei

local ingredients
Instructions
Set a cooking pot on heat and allow drying. add the palm oil and allow to heat for 2 minutes but don't let it bleach.

Disolve the egusi seeds in a cup of water and add to the heated oil

Fry the dissolved egusi seeds in palm oil for the next 8-10 minutes. Always stir to avoid burning it.

Once the egusi is fried, add 6 cups of water, the cooked meat, stir. add the roasted fish, stockfish, ground crayfish, a seasoning cube, ground scotch bonnet pepper then cover and allow to boil for the next ten minutes.

Stir occasionally to avoid burning.

Add the already washed bitter leaves, one spoon of ground dawadawa (local ingredients), taste for salt and pepper.

Allow to boils for ten minutes, stir in between.

Serve Egusi soup and garri (eba), alternatively, you could serve with pounded yam.

This is how you make the best Egusi soup with lumps, the kind you only find in posh restaurants and eateries. 😀
Video
Here is The complete List of All Nigerian Soups