What Nigerian food can I prepare for my Nigerian husband (hopefully) in case we decided to get married soon.
So I am dating this handsome Nigerian guy and we hope to get married before the end of the year. But I wondering the kind of Nigerian foods that i should be looking up.
What can I cook just to suprise him?
2 Answers
Best Answer
There are lots of Nigerian foods to cook for your husband/boyfriend. Well, I will focus on what you can make for your husband, boyfriends should stick to fast foods 😀 😀 😀
There are basic foods in Nigerian that any Nigerian would readily accept. Foods like
Rice
Soup and eba/fufu
Beans
Plantain (ripe, unripe)
These Nigerian staple foods can be prepared in different ways. Different recipes exist across different Nigerian ethnic groups so I think you should tell us more about your husband/boyfriend.
His ethnicity
Choice of foods
etc.
When you learn about this you can then make a specific query based on your husband or boyfriend's ethnicity and choice of foods.
Generally, this are the kind of food you could use to surprise a Nigerian husband.
1. Pepper soup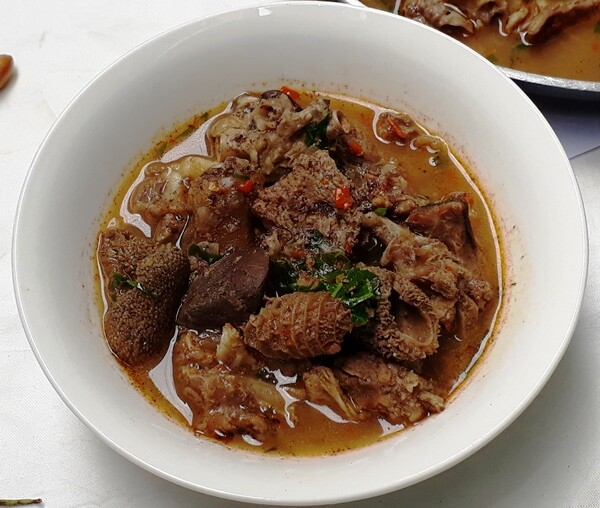 A thunderous plate of pepper soup could leave your hubby surprised. pepper soup is a side dish in Nigeria and sometimes paired with rice and served as a square meal.
Variations abound in Nigeria.
Above is goat meat pepper soup.
We also have catfish pepper soup and cow tail pepper soup.
Pepper soup can be made from any meat or fish.
Here for Goat Meat Pepper Soup
2. Jollof Rice and Chicken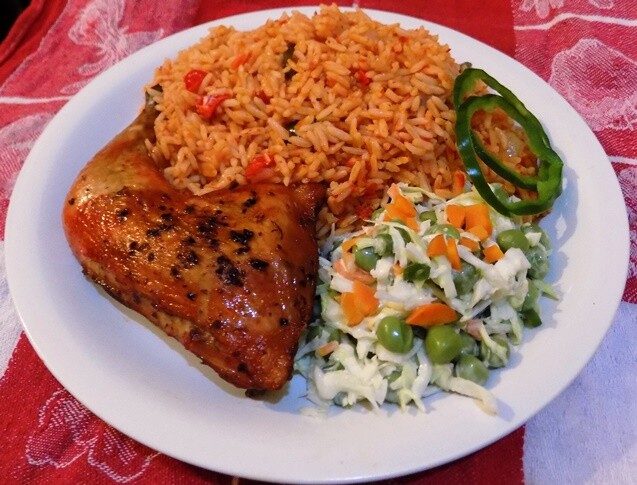 Jollof rice and a well-grilled chicken may also leave your husband/boyfriend surprised.
These are the basic foods in Nigeria. You will never go wrong with jollof rice since it is one of the most popular foods in Nigeria.
Here is for Jollof Rice
3. Eba and soup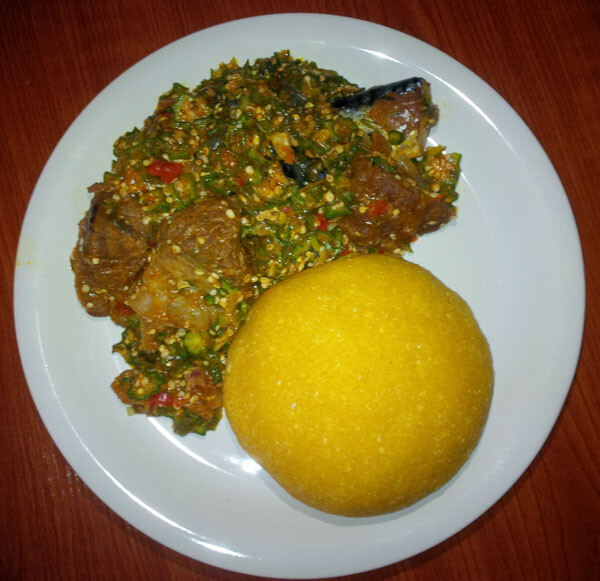 This is a plate of okro soup and eba, it could be any soup, just find out his favorite soup and then serve him eba and his favorite soup.
For a lot of people, Egusi soup is their favorite.
For me, it is Afang Soup or Okro soup
It could also be Ogbono Soup even
It could be any soup. They can all be paired with eba or anyone of the other swallows in Nigeria
In conclusion, you could make any one of the popular Nigerian foods for your husband or boyfriend.
Just start with the easy recipe.
Nigerian foods/delicacies are in different categories. You can decide to cook meals for your man based on these categories I would mention:
1) SOUPS 
Nigerian soups are rich in nutrients, vitamins, proteins, fats, and carbohydrates. Yeah, that's right, that's exactly how rich our soups are. Without further ado, I would give you a concise summary of Nigerian soups and all you need to know about them :
A) OKRA SOUP – Okra soup, as the name implies, is a soup made with a vegetable called Okra. It is a very common vegetable, especially during the rainy season. It is rich in vitamins. 
A well-made Okra soup would require the following ingredients:  Okra, Pumpkin leaf(Ugu leaf), palm oil/ groundnut oil (depending on your taste), fish, seasoning cubes, pepper, salt,  beef (or any meat of your choice), periwinkle, etc.
Okra soup comes out slimy and the intensity of the slime can be heightened with a condiment known as Ogbono. 
B)  OHA SOUP – Oha soup is culled from a leaf called the Oha leaf. It is most popular amongst southern and Eastern Nigerians. When properly prepared, it comes out as a very delicious soup. Oha soup is made with meat, fish, palm oil, periwinkle, seasoning cubes, pepper, salt, Oha leaf, etc. Ofor is used as a thickener is Oha soup.
 
C) VEGETABLE SOUP – Vegetable soup is made with fluted pumpkin leaf. It is easy to make, and it is made with meat, fish, red oil, vegetable leaf, waterleaf, periwinkle, seasoning cubes, pepper, salt, crab or any other seafood, etc.
D)  BITTERLEAF SOUP – This soup is made from a leaf called Bitter Leaf. Just as the name implies, Bitterleaf soup can turn out to be very bitter if the leaves are not properly washed to rid them of their bitterness. Bitterleaf soup can be made with Egusi(Usually used as a thickener), bitter leaf, palm oil, periwinkle, Seasoning cubes,pepper, salt.
E)  OGBONO SOUP- Ogbono soup, just like Okra soup, is slimy. It is a THICK soup. It can be made with or without vegetables. Other ingredients include periwinkle, Ogbono, meat, fish, salt, pepper, seasoning cubes, palm oil, etc.
F)  EGUSI SOUP – Egusi soup is rich in protein and fats and is gotten from melon seeds. Egusi soup is a thickener on its own and can be cooked with or without vegetables. Meat, fish, egusi, palm oil, pepper, salt, seasoning cubes, periwinkle, crabs, and other seafood can be used in the preparation of Egusi soup. 
You can experiment and improve your cooking skills by watching videos on how to prepare these soups on YouTube. You are not limited to the aforementioned ingredients, as you can try out so much more. All Nigerian soups can be eaten with garri, fufu, etc. 
2) STEWS 
A normal stew is prepared with meat, fish, groundnut oil or red oil,  carrots, green peas, onion, pepper, salt, seasoning cubes, etc. 
3) RICE – Rice can be prepared in different forms such as rice and stew, coconut rice, fried rice, jollof rice, etc.