Yoruba foods are just as popular as foods by other Nigerian ethnic groups. Yoruba is one of the three major Nigerian ethnic groups aside from Hausa and Igbo.
Most Yoruba foods are usually a blend of different colored food elements, it is always a pleasant sight to behold, that's the way the Yorubas like to eat, they like a combination of soups/stew/ assorted meat plus eba or pounded yam.
Pounded yam is one of the 'swallows' in Nigeria, it is a favorite Yoruba swallow but is usually reserved for the rich.
Here is more on Pounded Yam, it can combine perfectly with any Yoruba soup.
If you haven't tried it yet, please do. What you find below is a typical Yoruba food, a combination of gbegiri, ewedu, and stew; served with fufu.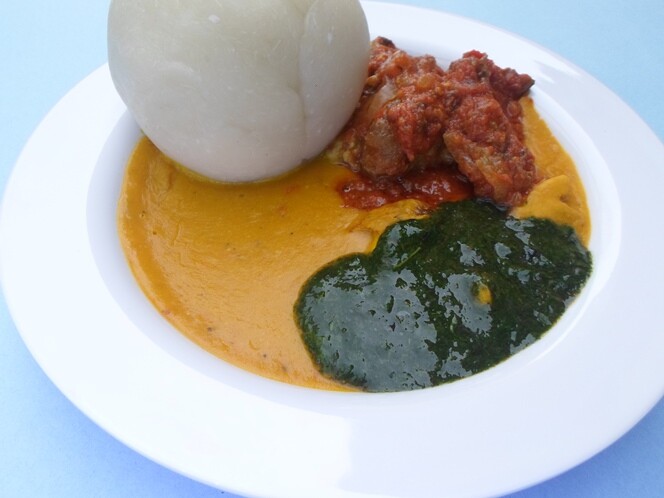 If you are an African/American but married to a Yoruba person, you can start with these recipes below.
Most Nigerians eat almost the same set of foods. Take jollof rice or porridge yam, for instance, they are all the same across all Nigerian states except the slim difference in the style of preparation and ingredients used; especially for the soups. So any Yoruba person can accept virtually all the regular Nigerian foods but if you are looking to surprise him with a special treat then you might wanna try some of the Yoruba recipes on this page.
This is all about the foods eaten by the Yorubas, a very popular Nigerian major ethnic group. Some of them are easy to prepare while a whole lot of them would require some traditional cooking utensils, don't worry, I will be here with you every step of the way.
Names of Yoruba Soups/foods.
Ewedu
Gbegiri
Efo Riro
Amala
Iyan – Pounded yam
Other Yoruba Foods
There are over a hundred different foods eaten by the Yorubas so we are going to take them one after the other. I want to talk about the very popular ewedu soup here and then a little bit on how to make gbegiri, I just learned about this recipe a few days back, it is a delicious Yoruba delicacy.
Yoruba Ewedu Soup



This green soup is likely the most popular Yoruba soup from what I have seen during most Yoruba parties but I noticed that it is never served alone, wondering if I have tasted ewedu soup? Of course, I have or how else do you think I learned to prepare this delicacy.
I will tell you my experience with ewedu soup on the main page and also why different Nigerian ethnic groups seem to have different recipes that are special to them.
This way –> For Yoruba Ewedu Soup.
That being said, let's talk about another delicious Yoruba food (soup) here – efo riro. I made this soup a couple of days back and it is super delicious.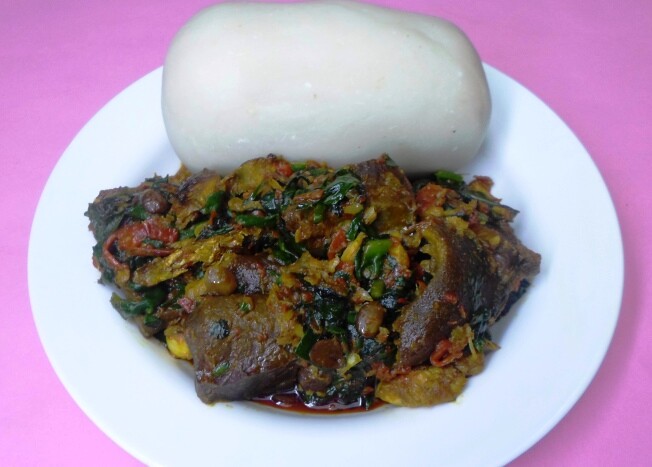 You can also learn how I made a delicious plate of efo riro soup here, the popular Yoruba rich vegetable soup.
This way for Efo Riro Vegetable Soup
This page is entirely about the foods eaten by the Yorubas and here you are going to learn about making gbegiri soup; a very popular Yoruba "bean soup". You can find the image of gbegiri soup below.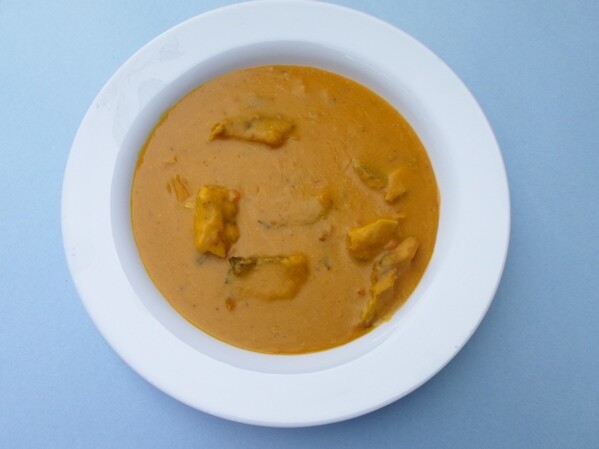 Ingredients for making gbegiri soup.
1 cups Beans (white or brown)
Potash
Onions (2 balls)
Pepper
Palm oil
Seasoning (knorr cube, salt etc)
900g fish/meat – optional
Preparation
Step 1
We start by removing the seed coat; just transfer a cup of beans to a bowl, sprinkle a handful of water and start robbing and squeezing hard, as you progress the outer coat starts wearing off. This is actually the easiest beans de-coating method. Add water, wash, and strain (leaving the white split cotyledons). you should be done with this in about 10 minutes.
Then pour into a pot and start cooking with just water and about a half teaspoon of powdered potash, the potash act as a catalyst, most people use potash to hasten the cooking process while others avoid it for health or personal reasons.
Step 2
Cook for twenty to fifty minutes until it is very soft and ready for mashing. After that use a short strong neat broom to mash it till soft (there is often a broom kept for this purpose, the same that is used for ewedu soup). The reason for this is just to ground the already cooked beans to a seedless soft pudding.
There are different methods to making Yoruba foods, the gbegiri soup is not an exception. Some Yoruba uses a strong spoon and a plastic sifter for this purpose. They achieve the same end by pressing the soft seeds against the sieve with a spoon, it is that simple for most Yoruba foods. Alternatively, use an electric blender! 😀
Set the mashed beans apart in a clean bowl.
Step 3

At this point most people just transfer into a pot then add the already cooked meat/fish, onions, seasoning (1 knorr cube), pepper, salt, 100ml palm oil and allow it to steam for 10 minutes then a delicious pot of gbegiri soup is made, or you can follow.
Step 3B
After following step 2 to a T, set your cooking pot on the burner, use about 10 to 15cl of palm oil, allow heating then add sliced onions, mashed beans, pepper, other seasonings of choice (a cube of knorr or maggi), iru (locust bean), salt to taste, allow to cook for five minutes, and you just made a delicious pot of gbegiri soup, one of my favorite Yoruba soup.
You can serve gbegiri with amala, fufu or eba.

There are so many Other Yoruba foods that we are yet to talk about. We are also making videos.
Ofada Sauce/Stew is my favorite
Someone asked me recently,
Do you think Moi moi is a Yoruba food, See My Answer.
Are You a Big Man? Cook Onugbu soup 😀
Ewa Agoyin is super delicious and super yummy.