Coconut rice is not just a healthy meal, it is also delicious, especially when you use really matured-sweet coconuts.
If you are looking to prepare this delicious meal but don't know how to do it, here is all you need to know about preparing this delicious rice meal.
I think this comes fourth on my list of delicious rice meals. Right after salad sauce, carrot stew and fried rice. If you don't have the Rice Book yet, pls don't delay anymore – Get it here or Get All My Books Together at a Discounted Price Here
What you see is a bowl of simple coconut rice, super delicious. The only difference between the usual jollof rice and this is the use of coconut milk; it changes the taste and impairs the color slightly.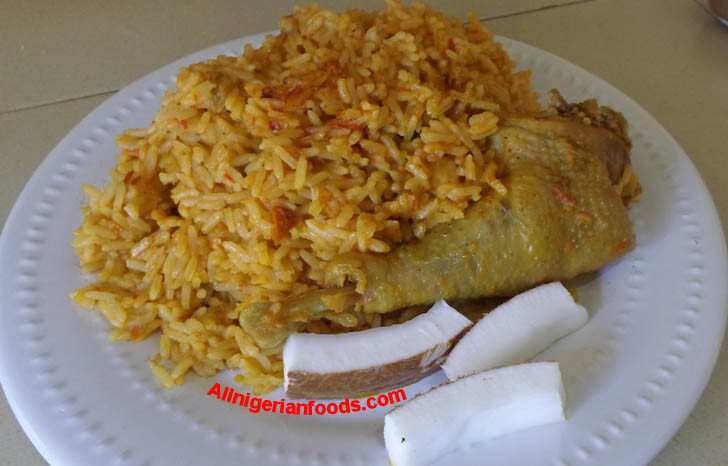 There are actually different recipes, some don't use tomatoes, I have another recipe in the rice book that is called buttered coconut rice, it's to die for. 😆 😀
First, you should spend some time looking for the really matured cocoanut, one big cocoanut would be enough for 4 cups of rice which would probably serve a family of five or six.
When you eventually find the matured-dried cocoanut, the shell is usually dried. Break it, take a bite, if it is not sweet, start looking again. It is important to buy the really matured and sweet cocoanut, it makes a whole lot of difference. It should really be somewhat sugary. If you are there, shout – yaw!!! And commence with the rest of the cooking.
The Ingredients for coconut rice
Serving – 6 Persons
1 Big Coconut.
3 cups of rice
Fresh ground tomatoes (500ml)
Chicken (2KG)
1 cup of sliced onions
3 seasoning cubes
Half teaspoon of chicken spice
Vegetable oil half cup (150ml)
Salt and pepper to taste
How to make coconut rice
Step 1
You start by breaking and de-shelling the cocoanut (we don't need the water inside, you can drink it – very healthy), grate (sort of grind) the coconut with a grater, the idea is to squeeze out the milk from the main coconut. Normally you grate the coconut with a grater and then add a cup of water or two and then squeeze out the white water (coconut milk) which is needed for the preparation of coconut rice. Filter the squeezed out milk and set aside in a bowl

Step 2
Parboil three cups of rice, grind the tomatoes/peppers (you need about 500ml), your blender should be calibrated, or you can slice the tomatoes if you like. Also parboil the chicken with all the necessary ingredients (half cup of sliced onions, 2 seasonings cubes, Salt, and half teaspoon of chicken spice), add water about five minutes later and allow cooking till it is soft for consumption.
Sometimes I just add the chicken without frying them, like in this recipe.
Step 3
Set your cooking pot on heat, add a half-cup (150ml) of vegetable/groundnut oil, allow heating for at least 90 seconds before adding the ground or sliced tomatoes. Now fry and stir the tomatoes for the next 10-15 minutes till it is dried.

Step 4
Add the pre-cooked chicken and stock once you are done with frying the tomatoes, also add the coconut milk, a seasoning cube, add more salt to taste. Allow boiling before adding the rice, then the remaining half cup of sliced onions.
cook for the next twenty to forty minutes until it is very soft for consumption.
You can add a little more water along the line. Once it is soft enough to your desire, go ahead and serve with the fried meat, you just made a delicious pot of coconut rice
Serve with the cooked, fried or grilled chicken. Aside from chicken, you can also use goat meat, beef or assorted meat to make a delicious coconut rice meal.
Do you like the meal? Any question? pls, leave me a comment below.
Learn about other Rice Recipes – Coconut rice
Subscribe Below to Receive My Free Weekly Recipes.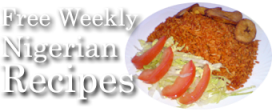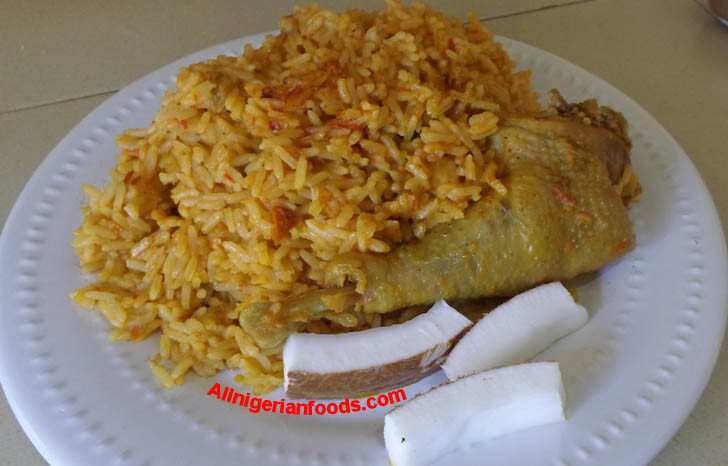 Print Recipe
Coconut Rice recipe
Coconut rice is delicious and beneficial to your health.
So much has been said about coconut and all of its health benefits, when you find a way to combine together with rice tomatoes and several other ingredients, what you get is a huge chunk of deliciousness.
Ingredients
1

Big Coconut.

3

cups

of rice

Fresh ground tomatoes

500ml

2

kg

Chicken

1

cups

of onions

3

seasoning cubes

Half teaspoon chicken spice

150

ml

Vegetable oil

Salt to taste

Pepper to taste
Instructions
Grate the coconut, add two cups of water and squeeze out the coconut milk. You don't want the coconut water, you can drink that one. We need the coconut milk.

Parboil 3 cups of rice, wash and set aside.

Grind the tomatoes, you need 500ml, combine with 4 small pepper (scotch bonnet), blend into a paste.

Precook the chicken, season with a half cup of sliced onions, a teaspoon of salt, half teaspoon of chicken spice, 2 seasoning cubes. Add a cup of water and cook the chicken till it becomes chewable. 😀

Set the boiled chicken aside, with the stock.

Set a clean pot on heat, add vegetable oil (150ml), allow to heat for 90 seconds before adding the ground tomatoes/peppers. fry for 10-15 minutes, stirring now and then.

Once fried add the cooked chicken and stock, the coconut milk, a cup of water, a seasoning cube, salt to taste.

Allow to boil, then add the rice, remaining half cup of onions, cover your pot and cook for 20-30 minutes. You can add water occasionally.

Serve your coconut rice and chicken once it is soft enough for you.
Video
Recipe Video
Here is the video for this coconut rice recipe, our smart videos help give you a visual knowledge of what you are actually supposed to be doing. I hope you enjoy every bit of it.