Oha soup is definitely going to make the list of Nigerian popular soups.
You are probably here because you want to learn how to make oha soup the exact way an Igbo woman would prepare it.
We are still on foods eaten by different Nigerian ethnic groups.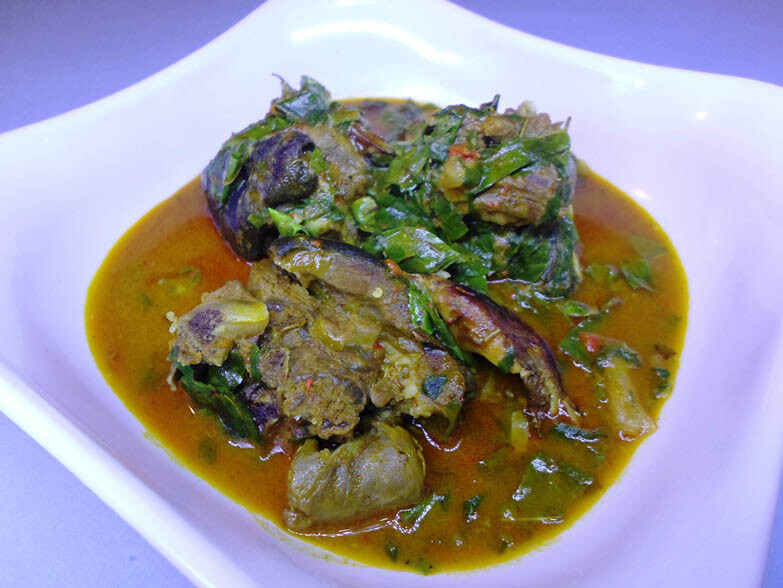 Ofe Ora (as the people of Igbo call it) is one of the most delicious soups that is popularly made and eaten by the people of Igbo.
The Igbos are one of the popular ethnic groups in Nigeria.
This soup is made with the leaves of a tree called oha. Ora soup is often prepared using cocoa-yam, egusi or ofor as the thickener.
I remember those days in the village, we pluck the fresh oha leaves directly from the tree, This way, you get them fresh and natural.
I love cooking in the village because almost every ingredient used was freshly harvested from the farm, a luxury we can't afford here in our current state of residence or other countries of the world.
However, every ingredient used in making Nigerian foods can be bought in almost any Nigerian local or international market.
You may not be lucky enough to purchase the very fresh ones if you live outside Nigeria but you will most likely find a dried alternative.
The following ingredients are used in making oha soup in Nigeria, you can increase or decrease depending on the number of people you are looking to feed, this would serve 8 people for 2 consecutive times.
This soup could be refrigerated for up to two weeks (two weeks is the recommended duration for most Nigerian soups)
The Ingredients For Oha Soup
Serving (8)
Oha leaves (as required)
Cocoa yam (see the video below)(about 15 to 20 medium sizes)
2kg Goat meat
200 g Dry fish or mangala
3 seasoning cubes
1 cup ground crayfish
150 g Stockfish head
300 ml Palm oil
4 tablespoons of ofor or achi (as an alternative thickener)
Ogiri (local ingredients)
salt and pepper to taste
Whenever I am making soups with cocoa yam, I chose to buy a small quantity of ofor or achi as an alternative thickener.
How To Prepare Ofe Ora
Step 1
Wash the cocoa yam with just water and start cooking, cook until it is soft (you can check with your fingers). Then peel off the outer back and pound with a mortar and pestle, the normal traditional way.
Set Aside.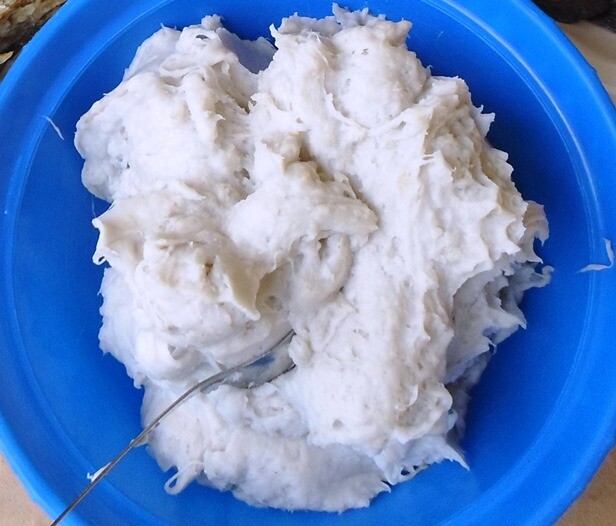 Step 2
Grind crayfish and fresh pepper (I like to use fresh pepper for most Nigerian foods)
Pluck off the Uha leaves from the stem and slice with a kitchen knife.

I like to shred the leaves with my fingers the exact way I learned from my mother (You will find how this is done from the video below, this method will ensure that the leaves are not shredded to tiny bits).
In case you want to slice with a kitchen knife just to ease up the process be sure not to slice into very tiny bits. You might want to look at the plate of soup above, again. 😀
Step 3
Pour hot water over the dry fish and stockfish to soften then. Then wash to remove dirt and sand. Remove center bone from the fish and tear the stockfish to smaller bits.
Step 4
Parboil goat meat with the necessary ingredients (two seasoning cubes, a teaspoon of salt, allow cooking for 15-25 minutes until it becomes soft and easy to chew.
Step 5
Add more water, 6 cups.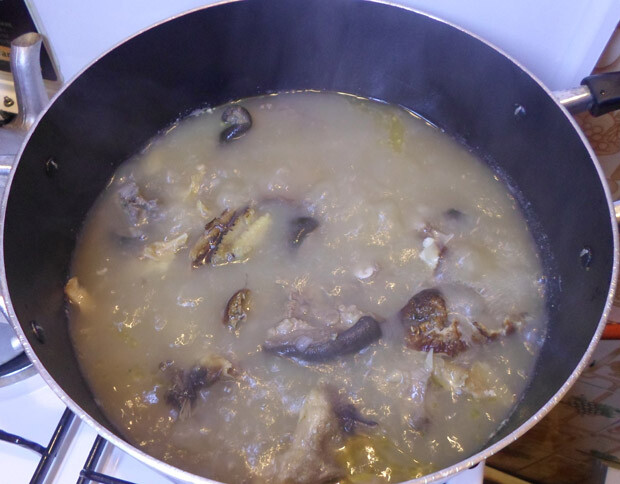 then add red oil (palm oil), fish and stockfish, the ground crayfish and 1 seasoning cube and salt and pepper to taste.
Stir and allow boiling. At this point, it should give a good soupy taste (even though it would be watery)
Step 6
Then add the pounded cocoa yam as you can find in the video below.

Also, add the ogiri at this point.
Step 7
Stir; allow to dissolve before adding oha leaves.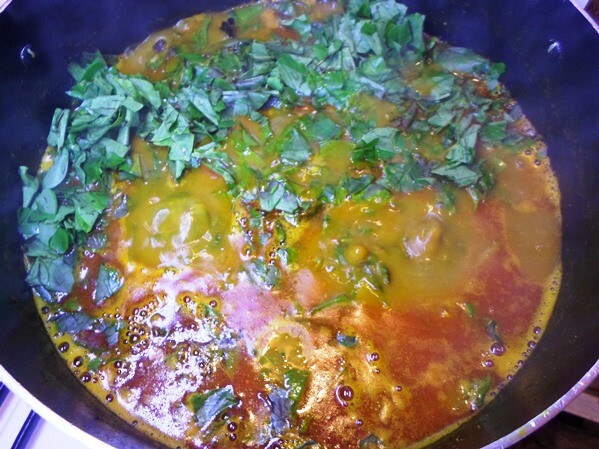 Step 8
Stir, taste for salt and allow to simmer for another 3 to 5 minutes and you just made a very delicious oha soup (ofe ora).
Step 9
Serve with eba, fufu or pounded yam.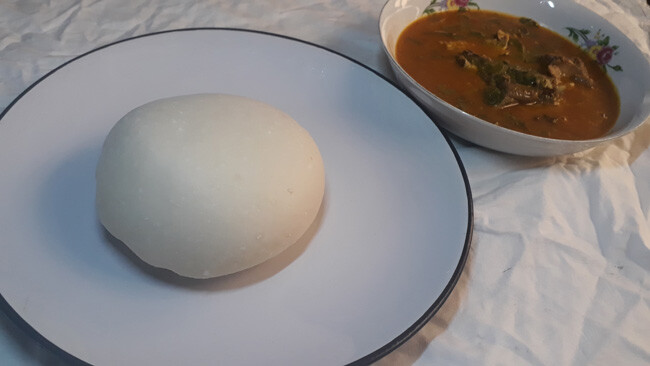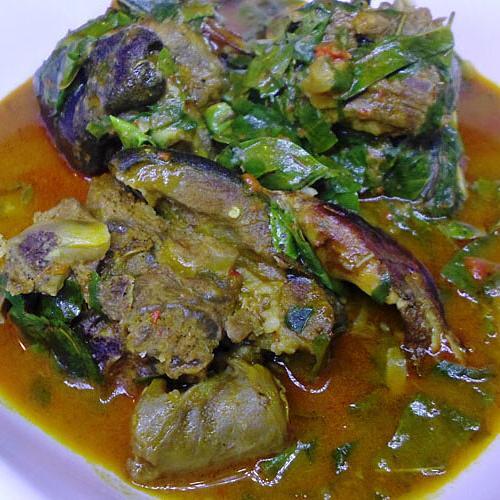 Oha Soup Recipe | How to Make Ofe Ora
Oha soup is unarguably the most popular soup in Igboland. This recipe is straight forward and I am sure, if you follow it to the end, you will be able to replicate the exact plate of soup above.
Ingredients
Oha leaves

as required

Cocoa yam

see the video below(about 15 to 20 medium sizes)

2

kg

Goat meat

200

g

Dry fish or mangala

3

seasoning cubes

1

cup

ground crayfish

150

g

Stockfish head

300

ml

Palm oil

4

tbsp

of ofor or achi

as an alternative thickener

1

tbsp

Ogiri

local ingredients

salt and pepper to taste
Instructions
You want to start by cooking and pounding the coco yams (they will be used as thickener for this soup). Just wash with water and boil for 15-20 minutes.

Peel off the back and pound using a mortar and pestle.

Slice the oha leaves and pound or grind the peppers and crayfish. Set aside.

Wash the dried fish and stockfish with hot water and tear them into smaller bits.

Precook the goeat meat using a teaspoon of salt and 2 seasoning cubes.

Add 5 cups of water to the cooked meat, then 300 ml (palm oil), fish and stockfish, the ground crayfish and 1 seasoning cube

Add salt and pepper to taste.

Stir your soup and allow boiling for 10 minutes.

Add the pounded cocoyam and ogiri at this point and allow them to dissolve for 10-12 minutes.

Always stir, you don't want burned soup. 😀

Add the sliced oha leaves. Allow to simmer for 4 minutes.

Traditionally, oha soup is served with fufu in Igboland, you can also pair with eba or pounded yam
Video
Video For Making Oha Soup In Nigeria
Above is a video demonstration of the steps outlined above, you can learn to make oha soup by watching this video.
I have found videos to be more helpful especially when it comes to making Nigerian soups. You will learn about every ingredient used and of course the step by step instruction.
Compare Other Nigerian Soups
See My List of popular Igbo Foods
Back To All Nigerian Foods