Akara or beans cake is one of those Nigerian foods that everyone loves to eat. The Igbo, Hausa, and Yoruba enjoy this delicacy. However, with slight variation in recipes.
In Nigeria, akara is served as a snack when combined with bread. Otherwise, it is paired with either pap or custard and served as breakfast or dinner.
Here is what I made last night.
A combination of Akara and pap (akamu), served as dinner.
In my home, I usually serve it as dinner since no one dares to make akara in the morning, it is a herculean task and requires about 3 hours to make.
You wash the beans in 10 minutes.
Soak in water for 60 minutes
Grind and allow another 60 minutes.
Total of about 3 hours if you want to end up with the actual thing.
Akara (beans cake) requires just 3 main ingredients.
Ingredients for Akara (beans cake)
1.5 cups of beans
5 scotch bonnet peppers
Half cup of sliced onions
Salt to taste
3 litters Vegetable oil
1 shombo pepper or tatashe
Serving: 4 Persons
Preparation time: 60 minutes
Waiting time: 120 minutes
There are 4 species of black-eyed peas in Nigeria, you need the smallest one for this recipe. Ask them for "akara bean" (beans used for making akara or moi moi).
If you can't find it, you can use any beans you find, they are almost the same.
Most people dread the idea of making akara for breakfast because of the Herculean task of peeling beans, but I am going to show you how to peel beans in just ten minutes or even less.
You can do this when making akara (beans cake) or moi moi (beans pudding).
How to Prepare Akara (Beans Cake)
Step 1
Transfer the beans into a clean bowl, sprinkle just very little water (half cup), and start squeezing hard against your palm.
As you do this repeatedly, the outer coat will start pulling off, sprinkle more water but never allow to soak, just keep squeezing and robbing against your palm for the next 2 minutes.
Add water and let the coats decant freely.
It should look like this.

Step 2
Keep rubbing against your palm, add more water and decant. It would be about 10 minutes before you have the de-coated beans.
It would look like this.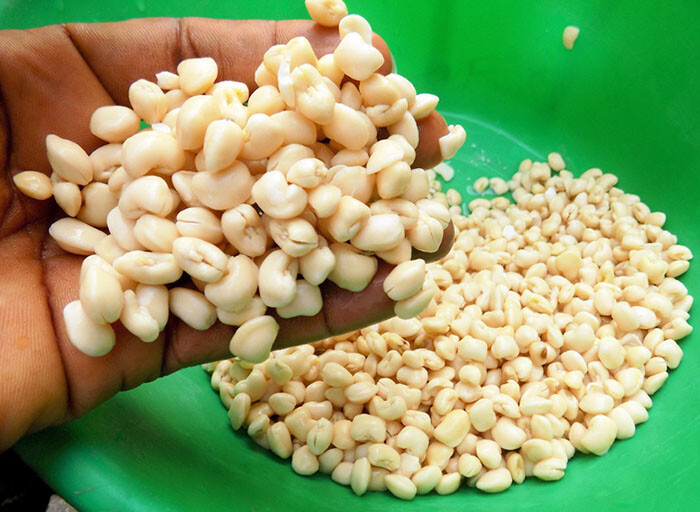 Step 3
Soak the beans in water for 45 minutes.
Blend the peeled beans using a smart blender or commercial grinding mills. Add the shombo or tatashe and blend. You don't want to add too much water.
Use very little water otherwise, your akara will pour right into the oil and settle at the bottom of the pot. Now, that's gobe! 😀
In most Nigerian local markets, there are people that grind beans, tomatoes, peppers, etc. They charge a small fee, however.
Step 4
After grinding the beans for akara (beans cake), let it sit in the bowl for 1 hour. This makes the beans swell a little and ensure better bonding between molecules. (Just a simple scientific explanation to why the akara floats on oil).
Step 5
Transfer into a mortar and further smoothen with a pestle for 15 minutes. If you don't have mortar and pestle. Transfer into a blender and pulse a couple of times

How To Fry Akara (Beans Cake)
Step 6 (Fry)
Set a cooking pot on heat, add 3 litters of oil. Let is heat for 3-5 minutes before you scoop in some of the bartar to see if it float.
Scoop in more

Drop the sliced peppers and onions ontop.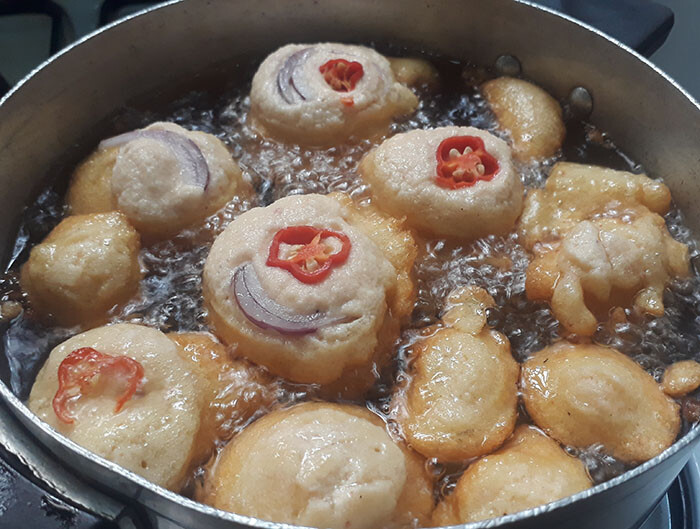 Fry and flip, it would look like this.

You want it golden brown, transfer it into a sieve to drain excess oil. You have your akara (beans cake) ready.
I hardly serve akara alone, most times, I pair them with pap or custard and serve as dinner or breakfast.
Questions & Answers
1. Why didn't my Akara (beans cake) float on oil?
Answer. Usually, because you didn't allow 1 hour after grinding the beans or the few minutes you spend smothering with the mortar and pestle. This helps the molecules bond tightly together and float on oil.
Plus, Don't add too much water while grinding the beans. The less water you use, the better.
2. Can I use Store-Bought beans flour for akara (beans cake)?
Answer. Nope! I wouldn't do that because I am certain you wouldn't get the same result. Using the recipe above you can peel beans in just 8 minutes. it used to be a herculean task but not anymore.
You can drop more questions below using the comment box below.
3. Do you put maggi in Akara?
Answer. No! You don't need it. Just salt to taste.
Subscribe Below to Receive My Free Weekly Recipes.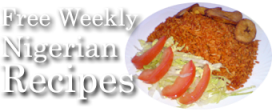 Akara (beans Cake) Recipe | How to fry Akara
Akara (beans cake) is a very popular west African snack that combines perfectly with either pap or bread. it is served in Nigerian homes as snack, dinner or breakfast. I fry akara all the time and pair with pap (akamu) for breakfast or dinner.
Mostly as dinner.
Ingredients
1.5

cups

of beans

5

scotch bonnet peppers

Half cup of sliced onions

Salt to taste

3

litters Vegetable oil

1

shombo pepper or tatashe
Instructions
To peel the beans, transfer into a bowl, add half a cup of water, and start robbing against your palm.

You do this repeatedly for 2-3 minutes until the coats start coming off.

Now you add lots of water more to let the coats decant freely.

Continue until the beans are separated from the coats.

Soak the beans in water for 45 minutes.

Combine the beans and tatashe or shombo, blend without adding much water.

Use as little as possible. Too much water would make your barter sink into the oil and spread at the bottom of the pot.

Let the ground beans sit for another 1 hour.

Smoothen the barter further using a mortar and pestle or blender.

Heat 3 liters of oil in a pot and fry the akara. Fry and flit till it looks like the regular akara you buy from the corner of the street.

Drop the sliced peppers and onions on top while the akara is yet frying. See images above and the akara video below.

Now transfer into a sieve to drain excess oil.

Serve.
Video
How To Fry Akara (Beans cake) Video

Rice and Beans Prev post
21 Nigerian Foodstuffs and Ingredients Next post