These are low-budget Nigerian meals that anyone could make without breaking the bank.
So what if I am operating on a low budget or a student and looking only to stay within my weekly allowances, what are the foods anyone could afford in Nigeria?
I get lots of questions about cheap and affordable foods for the everyday Nigerian, here we go.
Foods are part of the basic need of every human being, and learning about some of the healthy foods that could be made with little money can be a lifesaver.
What are Low-budget Foods
These are foods that wouldn't cost you much money to prepare.
Also, they must be healthy foods, as I don't think coke and buns should be on this list. 😀
They must be homemade too and not store-bought. Also, you save over 65% in cost when you make your own foods instead of eating out.
Below are the 11 top low budget Nigerian foods that are also easy to prepare.
1. Moi Moi (Beans Pudding)

Moi moi is made from beans and can be served with pap or custard. You don't need much for this recipe, 3 cups of beans, crayfish, seasoning, eggs etc. Just about 2000 naira would make enough moi moi for 6 persons.

We also make akara from beans, this is another low-budget Nigerian food that anyone can try at home.
I make it with just three cheap ingredients – beans, salt, and vegetable oil. The onion and peppers are optional.
Akara should cost about 1000 naira to make, that is if you have vegetable oil at home. 😀
Lots of people don't actually know this, but okro soup is one of the cheapest to make in Nigeria.
Once you can lay your hands on fresh okro, with some meat, crayfish, and seasoning, you will have a delicious pot of okro soup. 
2000 Naira would make Okro soup for a family of six.
Noodles are affordable and easy to make.
Since they come packed with all the necessary ingredients, they serve as a great option for students.
Four large-sized noodle packs that would cost about 1200 naira should serve a family of six.
You can add eggs and vegetables and still not break the bank.
5. Low Budget Yam Recipes
Most yam recipe are affordable and easy to prepare. 
Depending on where you live in Nigeria, you can pay between 500-1500 naira for a tuber of yam.
Then you need just some crayfish, palm oil salt and stock cubes to turn your tuber of yam into porridge.
This tea and bread combination is very popular among students and low-income earners. 
Sometimes we add butter, fried eggs, or tomato stew in between the bread.
It can also be plain sliced bread and a cup of tea.
Either way, it is a popular low-budget Nigerian food.
7. Low Budget Porridge beans
Beans used to be the cheapest staple food in Nigeria, even with the current rate of things, it remains affordable,
and making it one of the low-budget food for Nigerian families and students alike.
In my home, it's either paired with fried ripe plantain or cubed sweet potatoes.
You find the image at the top of this page. 
Fried yam or yam chips can be served with either tomato sauce or ketchup.
It can be served as lunch, breakfast, or dinner.
Since yam tubers are generally affordable in Nigeria, most yam recipes are considered low-budget foods
With just about 2000 naira, you can make white rice and stew for a family of six.
A pack of spaghetti is just 400 naira today. You will also need some tomatoes, vegetables (carrots and green beans).
You can use meat, fish, or just corned beef. 
With 2000 naira, you should be able to make a pot of spaghetti jollof.
Plantains are affordable at certain seasons in Nigeria. You can fry them, roast them or turn them into porridge.
Remember, bulk buying saves you a lot of money too. Buying a bunch of plantains is considerably cheaper than buying from retailers.
You can also save a lot of much by avoiding the street markets, going to major markets helps you save more.
There are more low-budget Nigerian foods. You can add your own using the comment form below.
See Popular Nigerian food name and pictures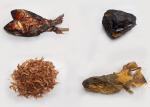 21 Nigerian Foodstuffs and Ingredients Prev post
Red Red Next post