So You want to make my favorite yam recipe, we are talking about this delicious looking recipe that I only get to enjoy when I travel to my home town. Unfortunately, as I stated on the main page about different recipes of yam; there are few of my favorite Nigerian foods that you wouldn't likely find in my part of Nigeria, they exist only in the rural areas.
[frame style="modern" image_path="https://allnigerianfoods.com/wp-content/uploads/2013/02/palm-oil-yam.jpg" target="" description="white yam and palm oil" size="banner_small"]
I love this recipe so much that I haven't spent any time in my village without having a plate or two. I am going to tell you how this is made because I am sure you would be salivating already if you are from the eastern part of Nigeria.
What you see above is white cooked yam served alongside a palm oil sauce made with just pepper, salt, utazi and ugba/ukpaka. I don't know the English name for utazi but the botanical name is Gongronema latifolium, while ukpaka/ugba is made of oil beans seed.
Ukpaka is also called ugba, it is the major ingredient that is hard to find in the urban areas, that is the reason why I hardly prepare this recipe in our Lagos home.
In the next few paragraphs I am going to be talking about how I made this palm oil sauce and the white yam. Like I stated initially, I was in my home town when I took that picture above, I plucked the utazi leaves and pepper straight from the farm while my mother bought the ukpaka from afor (the village's most popular market)
I guess you already know how to prepare white yam, it is likely the easiest part of this recipe. Just peel off the bark of the yam and boil with just water for about ten to fifteen minutes, that would be all. I like to add a spoon of salt three minutes before i turn off the cooker. Then filter
Now lets talk about how I made the palm oil sauce for white cook yam in Igbo land.
[frame style="modern" image_path="https://allnigerianfoods.com/wp-content/uploads/2013/02/ukpaka-and-utazi.jpg" link_to_page="" target="" description="" size="banner_small"]
What you find above is the preparation process for palm oil sauce, that is just pounded pepper/utazi, salt and ugba. The utazi adds a faint bitter but pleasurable taste to this whole recipe, the leaves are bitter but very important ingredients in a Nigerian kitchen.
Actually, the sauce was made in less than five minutes and the preparation of all the ingredients used was done in less than ten minutes also. It is necessary for you to heat the ugba or ukpaka for three to five minutes. If you have them wrapped in the usual layers of leaves, the best approach would be to put beside hot charcoal (this could be done while you are boiling the white yam
Ukpaka is always wrapped in layers of green leaves as you find below, both images serve the same purpose, the one on the left is very popular in the rural areas while the one on the right is sold in the urban areas. I think the one on the left is my favorite, but like i said initially, it is hard to find in developed cities.
[frame style="modern" image_path="https://allnigerianfoods.com/wp-content/uploads/2013/02/ukpaka-and-ugba.jpg" link_to_page="" target="" description="Ukpaka and Ugba" size="banner_small"]
After heating for three to five minutes, mix together with the already pounded pepper, utazi and salt, add about ten centiliters of palm oil and you are done with making my favorite palm oil sauce for white yam. The Igbos call it "Ji mmanu na Ukpaka,"
This is my favorite Igbo yam recipe, it is important to note that the sauce you see above is the same that is used during the new yam festival in Igbo land. The only difference is that during the new yam festival (iri Ji) we prefer to roast the yam instead of cooking it
Click This Link to Other Igbo Foods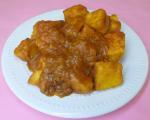 Porridge Yam Prev post
Yam Pepper Soup Next post