Nigerian breakfast recipes consist of the different kinds of foods that are eaten in Nigeria in the morning, I hope to make this list as comprehensive and detailed as possible by including even recipes for kids.
Are you a Nigerian or married to a Nigerian and just wondering what to make for breakfast? (just in case you want to make a surprise breakfast for your spouse). Well, take your time and dig in 😀
I get questions daily about "Nigerian breakfast ideas", most people wanted to know what Nigerians eat in the morning.
I would go along to list the very simple and easy to make Nigerian breakfast recipes and then a detailed instruction on making them will follow via a link. I will also include videos where necessary. It is advisable to go on very light foods in the morning, simple meals that will unlock your neural pathway for the rest of the day.
The most popular breakfast recipe in Nigeria is a combination of tea and bread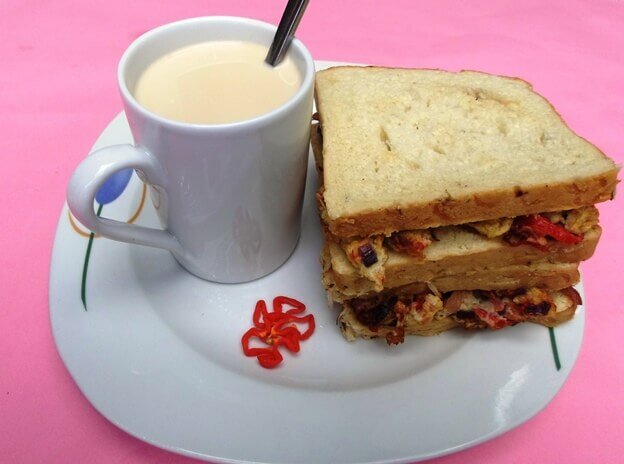 This recipe is very easy to prepare and comes in handy especially when you are in a rush to meet up with office hours. Most people in Nigerian are comfortable with just tea and bread but occasionally I fry eggs to complement the recipe.
You can follow this link to learn more about this Nigerian Breakfast Recipe. I think you will even see a video on how to fry eggs the Nigerian way.

Another easy to make breakfast recipe in Nigerian is Indomie noodles. Indomie is a special kind of noodle in Nigeria that would serves as breakfast for both adults and children alike. I thought they were for kids until I discovered this particular recipe.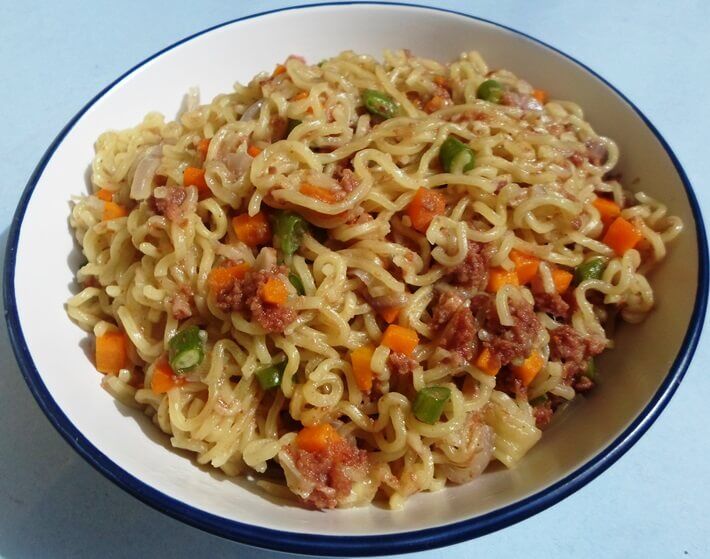 Learn more about Different Nigerian Noodle (indomie) recipes, you would be happy you did.
Here are some of the many different food combinations that could serve as breakfast to a Nigerian, I took the images while enjoying these meals myself likewise lots of other images you find on this site. There is likely no Nigerian food that I am yet to taste, I experiment wildly and also make lots of them in my own kitchen.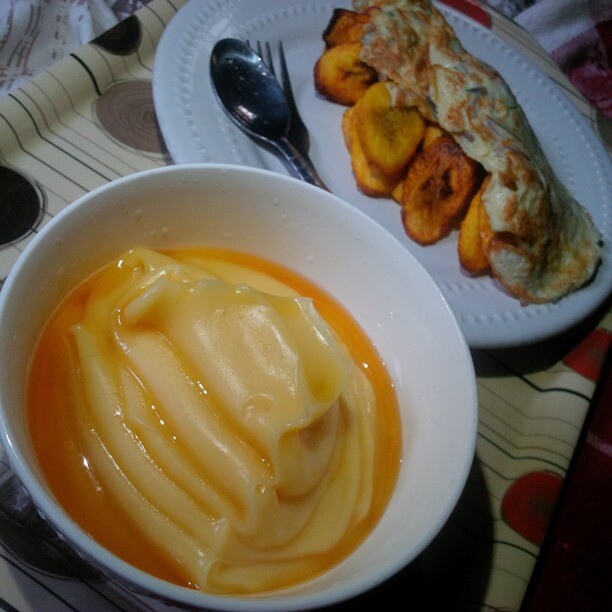 This is pap (akamu, ogi) in a plate and a combination of fried plantain and eggs.
Ogi (pap) is very simple to prepare it takes the same procedure as in making custard, you will find helpful video here on Making Akamu (pap, Ogi).
The last on my list of Nigerian breakfast recipes would be Yoruba's popular breakfast idea – ewa agoyin (beans and bread) (you will know what I am saying if you live in Lagos Nigeria. The country's most industrious state). It is called bread and ewa here in the Yorubaland and a plate is sold for less than 300 naira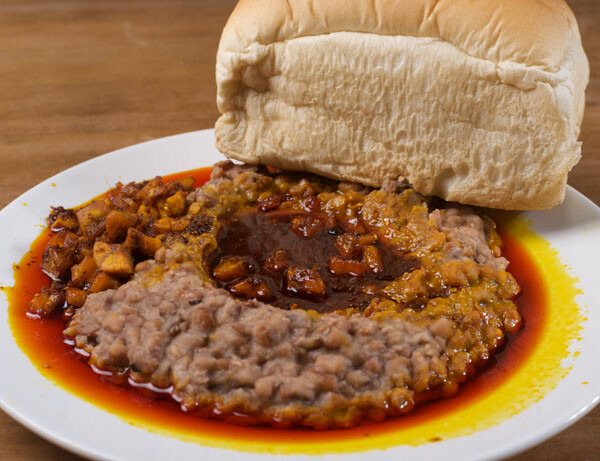 Bread and ewa are popularly made and served in local Nigerian restaurants. The making of the beans for this recipe is completely different from other beans recipes. It is just cooked beans and a special kind of stew, then the bread is often agege bread. Click here to learn more about making Ewa Agoyin (ewa) in Yoruba land and other beans recipes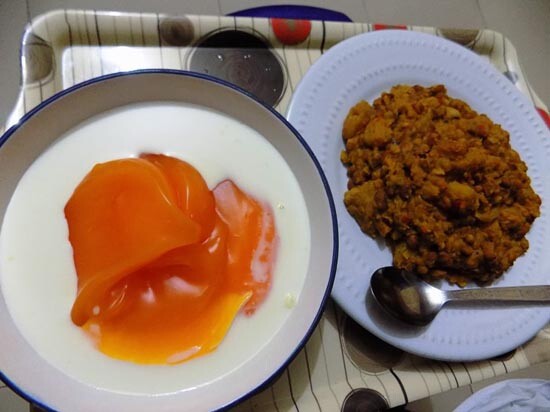 This is the image you saw on facebook today. It is a combination of porridge beans and custard. I love pap and milk. If I can't find pap, custard does a wonderful job. This can go as either breakfast or dinner.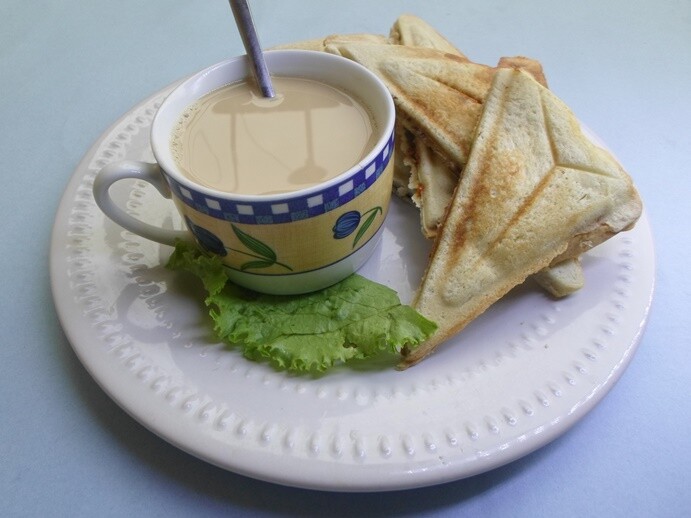 The picture above is that of toasted bread and coffee, it is one of the many breakfast recipe ideas in the ultimate Nigerian cookbook. Do you have a copy yet? You can Get Your Copy Here. More Nigerian breakfast ideas after the cut.

I keep thinking about my favorite breakfast recipe, a newly discovered recipe. It is just a combination of jellof rice and good amount of vegetable salads with little or no cream, I try to keep my family away from canned foods as much as I could.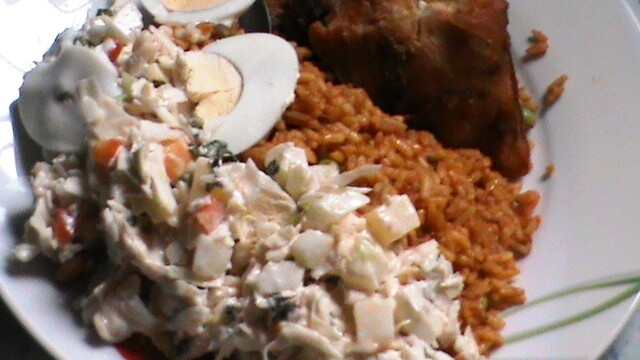 These are good example of light and simple Nigerian breakfast inspiration. Although, some of them may take a while to prepare, I make things easy by stocking my fridge with every necessary ingredient and foodstuff.
I live in Lagos, western Nigerian and as a working-class lady I often eat breakfast in my office, I buy from restaurants that are close to my office most of the times. During this time I have been able to experiment different kind of Nigerian foods that could serve for breakfast and I would list some of them here and then others that I make at home on weekends or during holidays.
Subscribe Below to Receive My Free Weekly Recipes.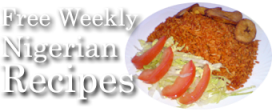 Go To Nigerian Desserts From Breakfast Recipes
I answered the question – What is African Breadfruit?
Try some Igbo Recipes