Yam porridge is one of the easy to make Nigerian foods and I know how to make the two popular porridge yam recipes, one is the everyday porridge you make in your home with fresh tomatoes, pepper, salt maggi, the type you buy in posh restaurants. If you are a member of the Nigerian Kitchen you probably know the one I am talking about, it is very delicious, see image below.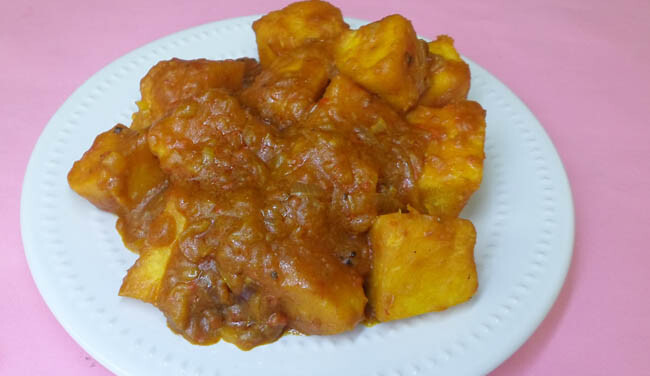 But then I did something else, I decided to experiment further with a tuber of yam and I came up with a delicious pot of yam porridge. Well, there is nothing so special about this recipe but this is the first time I am making anything as delicious as this with yam.
It's porridge with mashed chicken – A unique Nigerian meal
If you live in Nigeria you probably know a chicken breed that is called 'orobo', they are the robust ones. Although it has been proven that those robust chickens are not as tasteful as the thin ones, well, maybe; but I would say that you probably did not apply all my strategy for making tasty fried chickens.
So here I am going to write about these two but similar Porridge Yam Recipes. I think the major difference is the use of chicken in one of them and then the use of vegetables (fluted pumpkin) in the other recipe.
First, let's make a delicious pot of the yam porridge with mashed chicken. Here is the exact process I followed to get the image you see above.
The Ingredients for 6 persons Includes.
A tuber of yam (peel and slice to serve-able sizes).
Half cup of ground crayfish
Two cube of maggi or knorr.
5cl of palm oil.
Fifteen balls of ripe tomatoes
Two bulb of onions
Half Kg of Chicken.
How To Make Yam Porridge
If you follow this process you will most likely end up with a delicious pot of yam, just like the image you are seeing above.
So what is so special about this recipe? Nothing, you proceed the usual way. Peel off the bark of the yam, slice to serve-able sizes, wash and set aside. Also slice or grind the tomatoes, fresh pepper and a cup of crayfish. I use lots of onions while making most foods, just for its healthy benefits
I just parboiled the chicken for about fifteen minutes, allowed to simmer. Then managed to remove the bones and scattered with a spoon (not really mashing). The orobo chicken breed is very soft and can easily get scattered while you are turning the porridge yam with no extra effort.
We are almost done with making porridge yam.
Pour about ten cl of palm oil into a cooking pot, allow to heat and bleach a little (about two minutes).
Fry the ground tomatoes/pepper for five to ten minutes, add water and transfer the yam. I use palm oil to fry the tomatoes while making porridge yam, add water so that the yam pieces are almost submerged in water (but not completely submarged). Allow to boil then add the chicken, crayfish, a cube of Maggi, salt and allow to cook for the next ten to fifteen minutes
You can pierce with a cooking fork to know if the yam is soft enough for consumption. You can add vegetable, it is very nice for porridge yam even though I omitted it while making the delicious recipe above.
Cook for another three to five minutes and you just made my favorite porridge yam recipe with mashed chicken wings.
I have another delicious yam porridge recipe which is even much popular in our home, well, it shares resemblance to what I did above the only difference is the use of vegetable instead of chicken as you can see below.
Here is a plate of Nigerian porridge yam, this is the most popular recipe in our home.
The only different like I said above is just the use of vegetables here (fluted pumpkin), so if you want to make this particular recipe just follow the same procedure outlined above, forget about the chicken and use only fluted pumpkin…. or not!
Fry five spoons of tomato paste in 100ml of heated palm oil as usual, add water and all the other ingredients, also add the sliced yam, cover and cook for ten to fifteen minutes before adding the vegetables.
You will get the exact image you find above in you chose to not add vegetables, that is exactly how it is made in most Nigerian restaurants and eatries.
After the vegetables, allow to simmer for 3 minutes and stir together with a wooden turner until it thickens into a (porridge yam)
This is how to make yam porridge with vegetables in Nigeria. it is surely one of the easiest and most delicious Nigerian lunch recipe
Subscribe Below to Receive My Free Weekly Recipes.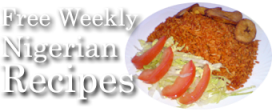 Compare Yam Porridge and Other Yam Recipes
Delicious Tomato Sauce For Yam
Learn How To Make Palm Oil sauce for Yam
Here is my Delicious Plantain Porridge Meal