Yam recipes are just so many in Nigeria.
I know over twenty of them but would be writing about the 5 most popular Nigerian yam recipes on this page.
There are just a few of them that are delicious enough to spark up my appetite. Number one would be porridge yam. 😀
Do you have a tuber of yam in your hand but lack the necessary skill to turn it into a delicious meal? I want to help you out with that.
Over the past few years I have experimented heavily on yam recipes and other Nigerian foods to discover even recipes that were initially unknown to humanity, 😀 I have also dedicated this year to even further experimentation on Nigerian foods.
My list would include porridge yam, pepper soup yam, tomato sauce and white yam as well as some age-old native recipe I that I only get to eat when I am in my village.
There are food I can't find in my part of Nigeria, although the list is very small but some of them are just too hard to forgo.
What you find below is one of such yam meals, this is cooked white yam with a different kind of sauce that you wouldn't find anywhere else in the urban areas. The sauce was made with utazi (false cubeb leaves), ground dry pepper, palm oil, salt, and another local ingredients called ugba or ukpaka which happens to be hard to find in developed areas.
What you find below is the image of cooked white yam with my favorite palm oil sauce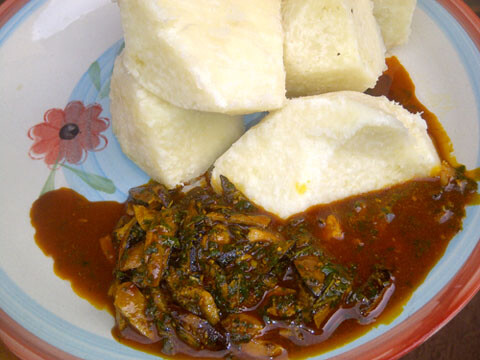 I have another delicious yam recipe in mind, I decided to try an idea in my head and it turned out very delicious. It was sort of a coincidence though, I had chicken wings in my refrigerator, the robust kind of chicken that is popularly called 'Orobo' in Nigeria. I made porridge yam with mashed chicken Wings.
This was actually easy to make, this is the usual porridge yam with a simple tweek, Porridge yam is one of my favorite of yam recipes, visit the main page for my Porridge yam With Mashed Chicken and another kind of porridge made with vegetables/tomatoes.
This page is exclusively about all the different yam recipes.
The country Nigeria is made up of over three hundred different ethnic groups and languages, in total there are over twenty different yam recipes in Nigeria but I am focusing mainly on the popular recipes, the ones that are acceptable by almost every citizen of Nigeria.
If you are dating or married to a Nigerian person you can surprise him/her with anyone of the recipes listed on this page, except the very few recipes that are indigenous to certain ethnic groups in Nigeria.
In my Lagos home we have four different ways of preparing yam. It is either porridge yam, tomato sauce yam, Pepper Soup Yam (Ji Mmiri Oku) or fried yam which is often combined with other foods to make a perfect breakfast or dinner in most cases. Among all of this yam recipes I think I like Peppersoup yam better than The rest of them, the only problem is that it is the most expensive of all the recipes because of the use of catfish.
Catfish is one of the most popular fish eaten in Nigeria it is used for preparing yam peppersoup as well as the popular point and kill peppersoup that you find in major Nigerian restaurants and food joints.
The yam pepper soup is very easy to make, the process is similar to that of Point And Kill (Cat Fish) Peppersoup, with slight differences.
Another popular yam recipe would be this.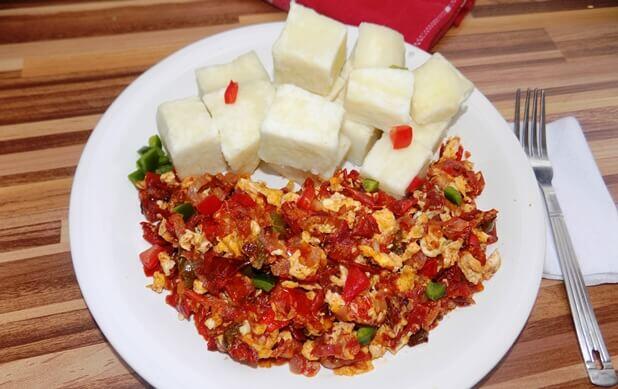 This is plain boiled white yam that is served with egg sauce. Click here to find recipes for Yam and Egg Sauce Recipe
I think yamarita takes the cake.


How to make Yamarita.
Aside all that I have listed above, there are several other uses of yam in Nigeria, the chief being 'pounded yam'. The name 'pounded yam' is a popular acronym in the Nigerian food-osphere. Pounded yam is usually served alongside other Nigerian soups
Pounded yam is just yam that is cooked and pounded with mortar and pestle and then served with any of the Popular Nigerian soups
Finally, lets talk a little bit about vegetable/tomato sauce that is usually made for yam. Another delicious yam recipe is vegetable/tomato sauce.

These are just some of the popular yam recipes in Nigeria. More recipes after the cut.
Subscribe Below to Receive My Free Weekly Recipes.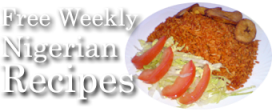 Click here to learn how I made Vegetable/Tomato Sauce for yam
Compare Beans Recipes And Yam Recipes