Hello,
Thanks for being a great part of this initiative, due to my kind of background and societal setting, it was necessary for a woman to know so much about foods and domestic works in its entire scope.
I learned to make Nigerian foods at a very young age, I think I made my first soup at the age of eleven, I still remember vividly, it was a vegetable soup with cow liver. It was my parent's duty to prepare food for the family but my dad insisted that I give it a whirl and that was it.
Over the years that followed I made even more Nigerian foods, experimented heavily on different Nigerian recipe and just some years back I thought of setting up the Nigerian Kitchen Initiative – this site, the videos, Facebook page as well as the Weekly newsletters to help folks around the world with making Nigerian Delicious Foods.
It has been a wonderful journey so far, so much has happened and so much is about to happen.
We started with simple – easy to make Nigerian foods, then several other complex recipes, continental dishes, breakfast recipes, dinner recipes etc.
I have set up this page just to hear your opinion on this entire program, have you benefited? Have you tried any of my recipes? Did it turn out right?
Please tell me about your experience in two or three paragraphs with the comment form below. Thanks!
Also tell me a little bit about you.
If you ever wish to take your cooking to a whole new level, You can get your hands on Our Premium Guide, That is the surest way to becoming an expert cook in one month or less
Your support will also be very much welcomed if you love the kitchen and feel like giving a hand; you will get my latest eBook for free. Here is How to Support The Kitchen :D.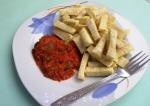 Tomato Sauce Prev post
Fried Eggs Next post