Nigerian Christmas brings lots of things to memory. Number one is deliciousness of foods (chicken, salad, rice) and the drinks that goes along with them.
If you are celebrating Christmas in Nigeria and wondering what to prepare for Christmas, here are some Christmas food ideas. I have already talked about this article on facebook and so many people are waiting eagerly for it.
Christmas is a always a memorable invent for the Christian folks in Nigeria as well as the rest of the world, it is celebrated to mark the earthly birth of our Lord and Savior Jesus Christ.
For me, I have seen lots of Nigerian Christmas, some were great and others were simply wonderful.
One in particular was simply amazing!!! 😀
I kinda love Christmas… a lot! There is something about the season that resonates with my soul, the breeze and the aroma are also soul soothing.
One thing that do charge up the spirit of Christmas is good foods… good rice! Without good foods, Christmas would be incomplete. That is just why I came up with these Christmas food ideas.
Foods for Nigerian Christmas
There are lots of foods that suits the Christmas season perfectly. In Nigeria, Jollof Rice is one of the top Nigerian Christmas foods. Heck, it was reputed as being the National dish of Nigeria.
I have made all kind of foods in the past, during the last Christmas I made fried rice, red fried chicken and vegetable salad; I have already talked about it in the past weeks via my free weekly newsletters and my facebook page.
When I think about Christmas, this is just what comes to mind – FOODSSSSSSSSSSSSS!!!


Those are some of the meals you can learn to prepare with the newly launched "Top 12 Delicious Rice eBook"
I have tried so many rice recipes that I am almost running short of ideas, but that wouldn't happen… not yet. That's part of the reason I created the ebook above, just so we don't run out of ideas… Me and you. 😉
Best Food For Christmas in Nigeria
So what is the best food to prepare for Christmas? I should be asking myself that question really. What do I prepare for this coming Christmas? What kind of Food should I prepare in order to create a memorable Christmas?
There are several foods to choose from but somehow, rice must come into the picture. Below are samples of rice meals.


What I usually do is to prepare any of the rice meals as lunch and then make a very lovely soup for dinner. Usually, the rice doesn't go without a well prepared chicken or goat meat. You can fry, grill or roast your chicken
Vegetable salad should also be part of the rice; it is a must for Christmas. Then you can also serve fruit salad as dessert.
Really, You can prepare any food for Christmas in Nigeria.
Try a combination of fried rice, grilled/roasted chicken and vegetable salad.
You can also boil white rice and serve with a hot chicken stew or salad sauce. Salad sauce is also called salad stew, it is one of the recipes that you would find in the Rice eBook, it is a perfect recipe for Christmas.
White rice and banga stew can also serve as Christmas food in Nigeria; You can make banga soup with goat meat and serve with boiled white rice and fried plantain.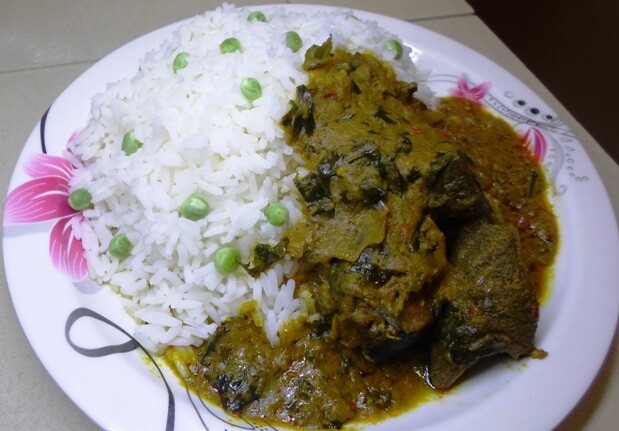 I don't just make any kind of food for Christmas, I make sure they are very rich and supper delicious. it is very important also that you buy high quality ingredients. You can prepare egusi soup with stock fish and assorted meat for dinner. Then serve the egusi with Semo instead of the usual garri (eba).
You can also try to make your own fruit juice, I have a comprehensive article here about How To Make fruit Juice, with all of this I believe you are gonna have a wonderful Christmas
As I have already stated above; food is a major part of Christmas in Nigeria. Great foods make great Christmas.
Don't Forget The Vegetables
Finally, please don't forget the vegetable. I have already said so much about this on facebook. If you are going to make tomato stew and white rice, remember to add carrot and green beans. See image below.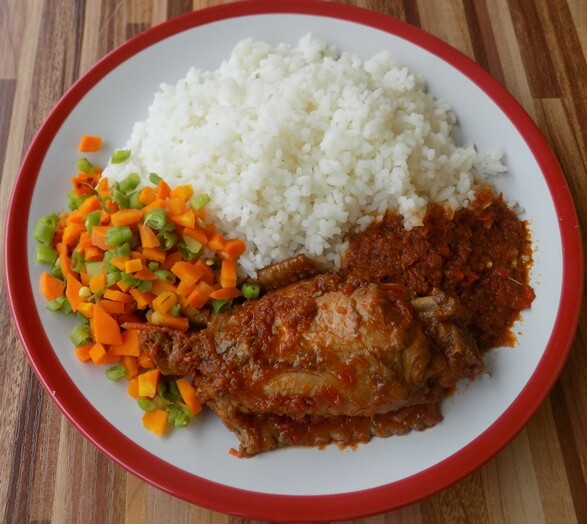 Observe the plate of rice above. That is plain tomato stew with turkey meat. Simple right? You can try it this Christmas. Just slice the carrot/green beans and add them while you are boiling the rice. 3 minutes before you turn off the heat.
I hope that these foods can assist you in creating a memorable and lovely Christmas for yourself and your family.
Here is how to make them | Fried Rice | Jollof Rice | Vegetable Salads
Please don't forget to add you comment below, let me hear your thought. What plans do you have for this Christmas?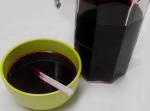 Nigerian Drinks Prev post
Good Foods and Love Next post